The Philippine Department of National Defense addresses groups in the United States opposed to the move of their own defense agency to return the wartime bells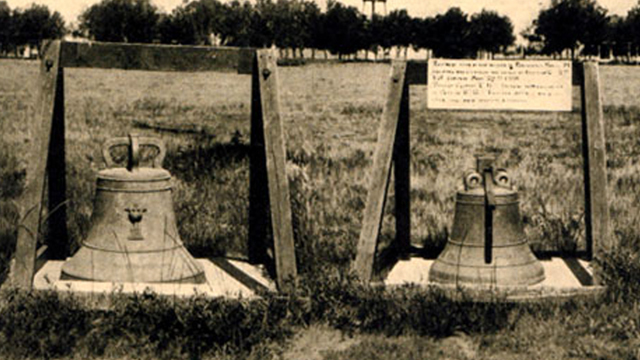 MANILA, Philippines – The Balangiga Bells taken by the United States Army from the Eastern Samar town in 1901 should not be treated as trophies of war, the Department of National Defense said on Friday, August 17.
Addressing groups in the United States who opposed the return of the historic bells to the Philippines, the DND said: "We call on the American people not to allow the bells to serve as trophies for atrocities that were committed by both sides on Philippine soil a very long time ago."
After more than a century, US Defense Secretary James Mattis said the US would return the church bells to the Philippines.
At least 3 American lawmakers, however, expressed "strong disapproval" of the US defense department's plan, according to an ABS-CBN online report. They are Wyoming Representative Liz Cheney, Senator Mike Enzi, and Senator John Barraso; 
The bells are currently at the F.E. Warren Air Force Base in Cheyenne. 
Healing wounds: In a statement on Friday, the DND said the return of the bells would serve as a symbol of the United State's sincerity and commitment to its long-term alliance with the Philippines.
"The return of the Balangiga Bells will be a strong indicator of the sincerity of the Americans in forging a lasting relationship with the Filipino people and truly symbolic of what their government has referred to in the past as an ironclad alliance between our two countries," the DND said in a statement. 
The DND reminded its American counterparts of the time both countries fought side-by-side during World War II and its current work fighting terrorism today. 
"In this ever changing world, it is time to heal the wounds of the past, move on, and look to the future," the DND said.  
Why are the bells significant? In what was known as the Balangiga Massacre, Filipino revolutionaries supposedly used the bells as a signal when they attacked a US garrison in the town of Balangiga in Eastern Samar, killing 48 out of 74 American soldiers.
Seeking revenge on the attack, American soldiers were ordered to kill everyone in the town aged 10 years and above, including work animals, to burn houses, and to seize crops.
"We must all remember that both sides lost many precious lives during the Fil-Am (Filipino-American) War – the Filipinos suffering many more deaths than the Americans," the DND said. "It was a dark chapter in the shared history of our peoples, which should never be allowed to happen again."
In his 2017 State of the Nation Address, Philippine President Rodrigo Duterte asked the US to return the 3 bells. The US embassy had then said it would continue working with the Philippine government toward a "resolution."
In 1994, then Philippine president Fidel Ramos also made the same request to his US counterpart Bill Clinton, to no avail. – Rappler.com