This is AI generated summarization, which may have errors. For context, always refer to the full article.
Asked about Chinese businessman Michael Yang, President Rodrigo Duterte brings up the special report and distributes it to reporters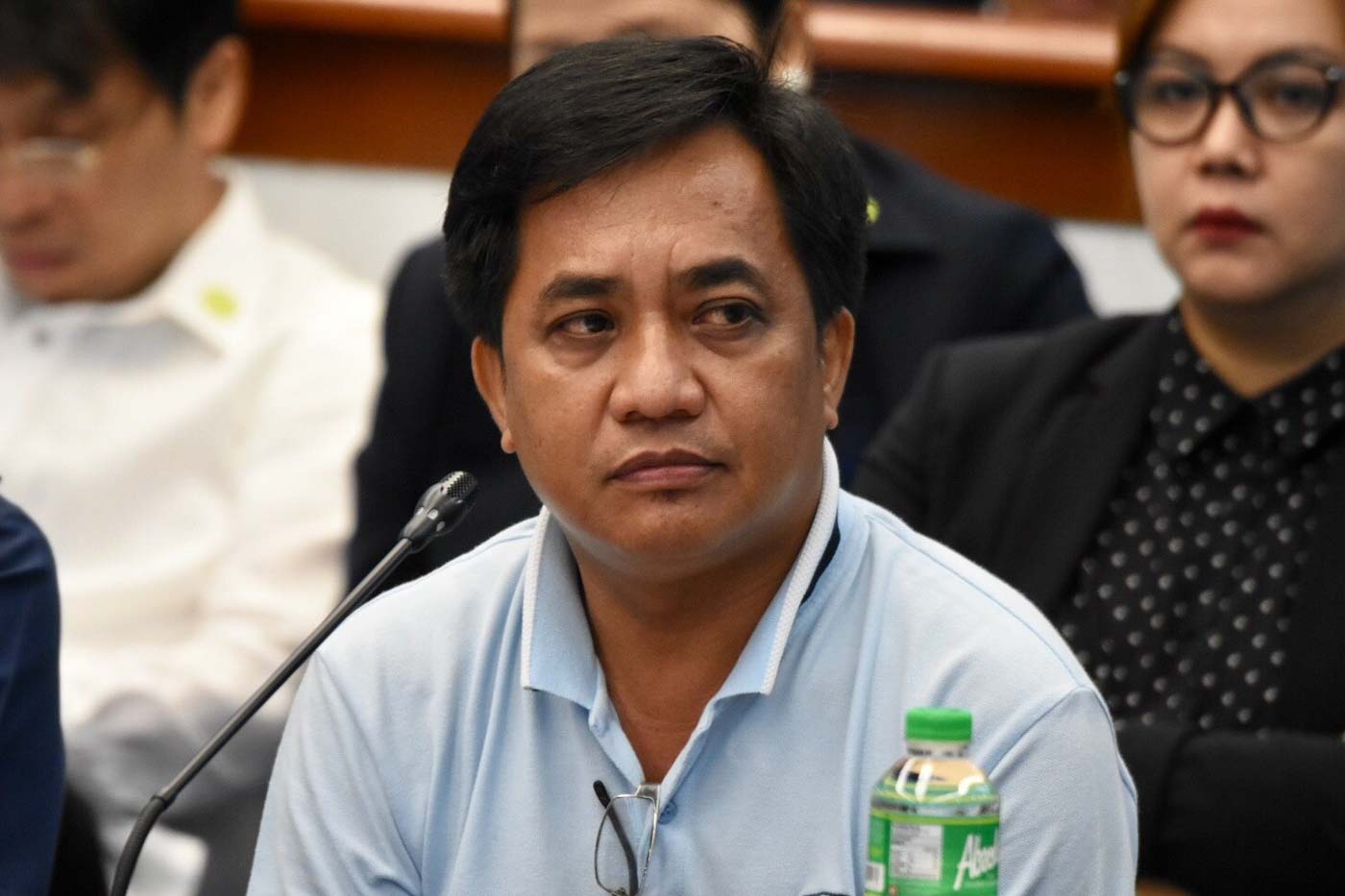 MANILA, Philippines – To prove not all law enforcers are honest, President Rodrigo Duterte "declassified" a drug intelligence report implicating mainly 3 law enforcers as corrupt and in cahoots with smugglers or drug lords.
"Ito 'yung (Here's the) matrix…. The dossier is there, you can have it…. Iyan, basahin ninyo (There, read it). Dine-classify ko 'yan (I declassified it)," Duterte said on Tuesday, October 9, speaking to reporters.
Malacañang afterwards distributed a "Special Report" on the "Involvement of High Ranking Law Enforcement Officials in the Country's Illegal Drugs Trade." 
The 15-page document contained a detailed account of supposed shady activities of the 3 persons:
Eduardo Acierto – Former Police Superintendent
Ismael Fajardo Jr – Philippine Drug Enforcement Agency Director III
Jimmy Guban – personnel at the Bureau of Customs
Duterte suddenly brought up the report after he was asked to confirm if Chinese businessman Michael Yang was his formally appointed presidential economic adviser. (READ: Duterte denies Michael Yang is his economic adviser)
The President previously said Yang had been suspected of being a drug addict or pusher, a suspicion he belied. He suggested that some corrupt cops were out to extort money from Yang, that was why he was tagged as a possible drug personality.
The report also mentioned other names, but the names were incomplete and had no other details about their alleged involvement in illegal drugs. 
Acierto
Acierto is the biggest name in the report as he held the highest position among the 3.
Dismissed from government due to "various anomalies," Acierto supposedly "recycled" drugs confiscated in drug busts in order to earn money. Drug recycling is when law enforcers keep some of the drugs they confiscate during operations so they can sell them or plant them as evidence in scripted operations to get recognition or get enemies arrested.
The report claimed Acierto also extorted from apprehended suspects "especially Chinese nationals."
It also identified him as the officer-in-charge of the Philippine National Police Anti-Illegal Drugs Group (AID) while one of its operatives killed South Korean Jee Ick Joo inside Camp Crame. Despite the group's disbandment following Duterte's orders, Acierto was supposedly never charged for command responsibility.
Duterte, in his speech, highlighted to reporters another claim made by the report – that from 2011 to 2013, Acierto irregularly procured 1,004 rifles which eventually got into the hands of New People's Army members.
Fajardo
PDEA's Fajardo, who served as its acting deputy director general for administration, was also supposedly into drug recycling and scripted anti-drug operations for personal gain.
In one specific case described by the report, Fajardo and his cohorts kept 36 packs out of 55 packs of shabu and then forced two Chinese nationals, Sonny Perinne Ang and Benito Sia Tiuseco, to admit to media that the shabu was confiscated from them by Fajardo and his men.
Fajardo had supposedly also made up a buy-bust operation in January 2016 in Binondo. While he and his cohorts said such an operation led to the confiscation of 15 kilograms of shabu from a Mitsubishi Adventure, the report, citing court documents, claimed it was Fajardo and his group who had placed the shabu in the vehicle in the first place.
They had brought it to a house in Celadon Residences in Manila upon the orders of a drug lord named Atong Lee, said the report.
In a separate instance, Fajardo and his group also supposedly abducted two Chinese nationals, one a known drug runner, from the Manila Bayview Hotel, and brought them to the site which the police would later on claim was where they intercepted the Chinese with 39 kilograms of shabu.
The report included photographs of Fajardo's house, an events place run by his wife, and the bullet-proof Toyota Prado Land Cruiser he supposedly owned.
Guban
Jimmy Guban of the BOC is no stranger to the public eye as he appeared in Congress hearings last month about the P6.8-billion worth of drugs smuggled into the Philippines from China. He was even cited for contempt by lawmakers in the House of Representatives for not answering their questions and supposedly showing disrespect.
Guban, a customs intelligence officer, collected monthly "tara" or grease money from  "mostly Chinese" owners of warehouses where smuggled goods were stored, claimed the report.
According to the report, Guban's supposed deal with the warehouse owners was he would inform them of raids ahead of time so that they could hide 75% of their contraband and leave the rest for confiscation of authorities.
But one time, Guban participated in a raid where authorities also confiscated supposedly hidden contraband. Owners of the warehouse, angered by Guban's duplicity,  reportedly told on him.
Guban, alleged the report, was the go-to Customs official for former members of the bureau's Economic Intelligence Board who wished to get smuggled goods like illegal drugs, fireworks, rice, sugar, onions, garlic, and ukay-ukay (used clothes).
---
What these 3 law enforcers had in common was that their alleged illegal activities involved Chinese nationals. In some of these cases, the 3 got into a tussle with the Chinese.
While the report did not adequately explain why Duterte would bring up the allegations in response to questions about Yang, he apparently released it to further clear the businessman of drug involvement. – Rappler.com