(UPDATED) Presidential Spokesperson Edwin Lacierda says there's no telling what Malaysian authorities can do and what action they will take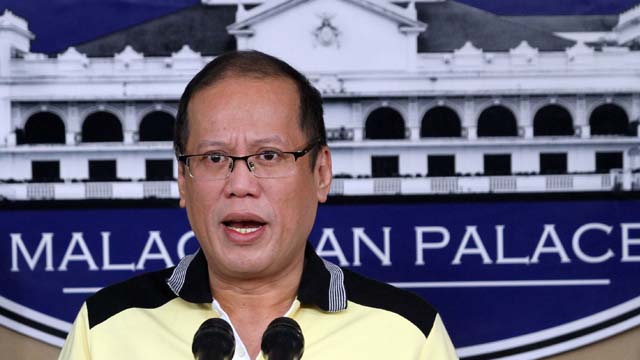 MANILA, Philippines – (Updated) Malacañang is calling for the surrender of the followers of the Sultanate of Sulu to avoid further bloodshed.
Addressing Filipinos who have holed up in Lahad Datu in Sabah, President Benigno Aquino III said in a statement on Saturday, March 2, "To our citizens in Lahad Datu, from the very start our objective has been to avoid the loss of lives and the shedding of blood. However, you did not join us in this objective. Because of the path you have taken, what we have been trying to avoid has come to pass." 
"If you have grievances, the path you chose was wrong. The just, and indeed, the only correct thing for you to do is to surrender. To those who have influence and the capacity to reason with those in Lahad Datu, I ask you to convey this message: surrender now, without conditions. If you have grievances, the path you chose was wrong. The just, and indeed, the only correct thing for you to do is to surrender. To those who have influence and the capacity to reason with those in Lahad Datu, I ask you to convey this message: surrender now, without conditions," the President said in his statement.
In a press conference also on Saturday, Presidential Spokesperson Edwin Lacierda said surrendering is the only thing left to do for Raja Muda Muedzul Lail Kiram, leader of Sulu Sultanate followers in Sabah, and his group.
After the assault on Friday, March 1, which left 14 dead (12 of them from the side of Filipinos and 2 from the side of Malaysians), there is no telling what the Malaysian government will do at this point, Lacierda added.
"There is no one in this Cabinet who is anti-Muslim. We are all concerned for the lives of Filipinos. Mahalaga po sa atin ngayon na sabihin na po sa kanila na sumuko na po kayo dahil ito na lamang po, maaring ito na lamang po ang inyong tanging magagawa dahil hindi po natin alam ang gagawin ng Malaysian authorities. Nangyari po yung nangyari kahapon at may namatay po sa side ng mga Malaysians so hindi po natin alam kung anong action ang gagawin nila," Lacierda said.
(It's important for us to tell them to surrender because this might be the only thing you can do, given that we don't know what the Malaysian authorities can do. What happened yesterday resulted in the death of Malaysians so we don't know what action they will take.)
Reacting to the President's call for surrender, Sultan Jamalul Kiram III, through his spokesperson, said, "Pasuko nang pasuko. Bakit kami susuko sa sariling tahanan?" (They're asking us to surrender. Why should we surrender in our own home?)
Earlier, the spokesperson of the Kirams, Abraham Idjirani, said the 214 followers of the Sultanate are not leaving Lahad Datu. "After we buried our 9 brothers and sister at sundown everyone of the 214 left decided to die in Lahad Datu in pursuit of their dreams and aspiration." Of the 214, 7 are women and 207 are men.
"Honor above life – these are the words of our beloved Crown Prince Raja Muda Adbimuddin to his brother Sultan Jamalul Kiram III," Idjirani said.
Drastic action
Meanwhile, Malaysia threatened to take "drastic action" against Raja Muda and his followers after their tense standoff erupted in a fatal shootout. More than half of the 214 Filipinos from Sulu are armed with only a kris and barong (smaller than a kris), and about 40% have guns which they brought with them for protection.
The Filipinos have been holed up in Sabah, surrounded by a massive Malaysian police and military cordon, since landing by boat to insist the area belongs to their leader Kiram III, a self-proclaimed sultan of Sulu.
"We want them to surrender immediately. If they don't, they will face drastic action," Hamza Taib, police chief of the Malaysian state of Sabah where the drama was taking place, told AFP.
He declined to provide details of what security forces had in store but his comments echoed growing Malaysian impatience with the situation.
Prime Minister Najib Razak, whose government has been embarrassed by the security breach, said in the shootout's aftermath that he told police and armed forces to take whatever action is necessary to end the impasse.
"Now there is no grace period for the group to leave," he was quoted as saying by Malaysian media, blaming the intruders for sparking the violence.
String of emissaries
Cabinet Secretary Jose Rene Almendras told members of the press that the Aquino administration has done everthing in its power to prevent any more bloodshed in Sabah.
Almendras clarified that the government had actually sent Presidential Adviser on Political Affairs Ronald Llamas and National Security Adviser Cesar Garcia as early as February 14 as emissaries to the Sultanate of Sulu.
After Llamas and Garcia, the government sent another set of emissaries composed of Autonomous Region in Muslim Mindanao (ARMM) OIC regional governor Mujiv Hataman who spoke Tausug and two other Muslim officials, General Quirol and an assistant secretary of justice. Almendras emphasized efforts were exerted to find a peaceful solution and prevent bloodshed.
"The idea is every possible means was done, all options were done. There were military interactions, there were diplomatic interactions, there were political interactions at all levels." 
Almendras pointed out there had been constant communication and discussion between the Philippine government, the Sultanate of Sulu, and the Malaysian government after the incident on Friday.
Communication and discussions were done both in the Philippines and in Malaysia, especially after the incident that resulted in the loss of lives. Almendras said the official statement of the Malaysian government only indicated they did not provoke the incident.
Different versions
He however declined to disclose any more information on these discussions since there were two versions of the incident on Friday — that of the Malaysian government's and the Sultanate of Sulu's — that the government received.
On the pronouncement of the Sultanate of Sulu that they value honor over their life, Almendras said, "We are saddened, I am personally saddened by that statement. There are reports contrary to that. I will not claim authenticity to those either."
Lacierda refuted accusations that the President renounced the claim of the Sultanate of Sulu on Sabah. He stressed that the President had already tasked a group to study the claim.
"May nag-aaral po ng problema tungkol sa Sabah claim. Hindi nga ho namin maintindihan, sinasabi po nila, they're accusing the President of renouncing the claim. That is inconsistent with the statement of the President when he said that, 'I have tasked a group to study the claim.'" Lacierda said. (Someone is studying the problem related to the Sabah claim. We can't understand what they're saying, they're accusing the President of renouncing the claim.)
Prosecution
Muslim-majority Malaysia had previously avoided tough talk, expressing hope the intruders would leave peacefully.
But even if they give up, they will face Malaysian prosecution, Hamza said, after he met with Malaysia's home minister and other top security officials.
The interlopers, who have been variously estimated at between 100 to 300, sailed from their home to press Kiram III's claim to Sabah.
Kiram, 74, claims to be the heir to the Islamic sultanate of Sulu, which once controlled parts of the southern Philippines and a portion of Borneo.
Hamza has said the shootout erupted when the armed Filipinos opened fire on police, who were attempting to tighten their security cordon. This was disputed by Kiram's group.
The Sulu sultanate's power faded about a century ago but it has continued to receive nominal payments from Malaysia for Sabah under a historical lease arrangement passed down from European colonial powers. – with reports from Cai Ordinario, Jerald Uy, and Agence France-Presse/Rappler.com