Moises Padilla Mayor Ella Garcia Yulo says she has yet to receive official town documents and records from her predecessor, former mayor Magdaleno Peña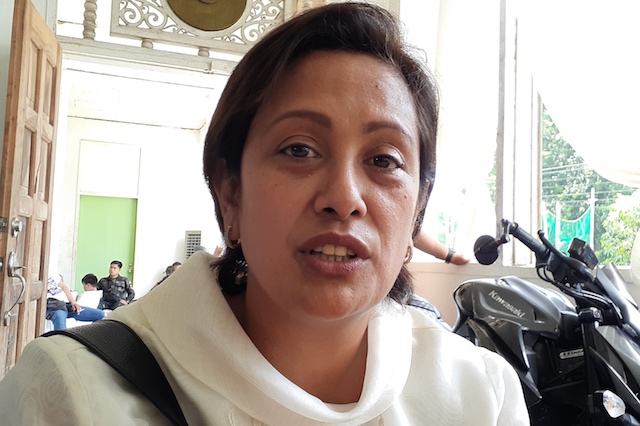 NEGROS OCCIDENTAL, Philippines – New Moises Padilla town Mayor claimed that her predecessor did not turn over official documents and records to her transition team. 
Yulo said the local office of the Department of the Interior and Local Government initially scheduled the turnover of the documents on June 27 but no local DILG official or member of the transition team of former mayor Magdaleno Peña were present at the mayor's office at that time.
"The only ones who were there were the former municipal employees who resigned from their posts on June 15," Yulo said.
She said their photos were taken with some of the documents at the mayor's office, but "not a single document" was officially turned over to her team.
Yulo said she has to look for all the documents in the coming days to know the status of the municipality, both financially and physically, and the properties owned by the town government.
"We also have to know the ongoing projects and the accomplished ones," she added.  
Yulo  said she will write the DILG regional office to complain that its local office didn't assist in the turnover,  despite Memorandum Circular No. 2019-39 which requires the creation of local governance transition teams to ensure a smooth transition of powers to the newly-elected officials.  
The transition team is tasked to do an inventory of local government unit properties, secure all LGU documents and records of official transactions, and give a briefing on the key challenges for the incoming set of officials for a seamless leadership and management transition.
Yulo added she would also submit a complaint to the DILG central office. 
Yulo won against Peña, her uncle, in the recent mayoral race in Moises Padilla, a victory considered to be "bittersweet" as she had survived an ambush during the election campaign. Her brother and nephew, however, were killed in that attack.  (READ: Bittersweet win for Negros Occidental official who survived ambush)
She accused Peña of masterminding the attack, but the former mayor had vehemently denied her accusations. – Rappler.com