Amid the rising number of killings on Negros Island, Central Visayas' police director asks investigators to refrain from linking all killings to the communist front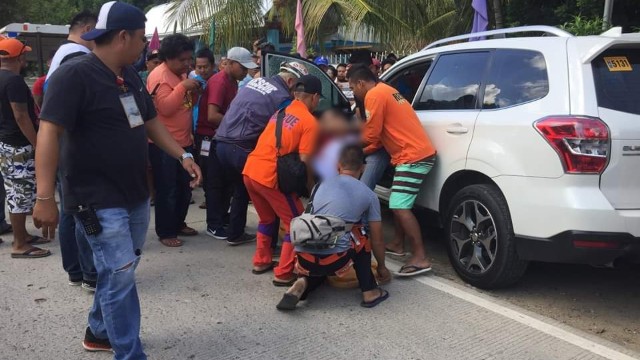 CEBU CITY, Philippines – Central Visayas police are looking into 3 possible motives in the slaying of lawyer Anthony Trinidad, who was shot dead in Guihulngan City on July 23.
"As of now, [there is] no person of interest, but we are looking at 3 possible motives," Police Brigadier General Debold Sinas, Central Visayas' police chief, told reporters during a press conference in Dumaguete City on Sunday, July 28.
Trinidad was on his way home from a court hearing when two gunmen aboard a motorcycle drove by his vehicle and shot him and his wife Novie Marie multiple times.
The first angle, Sinas said, was possible revenge: "We're looking at revenge angle – revenge by the supposed victims of Trinidad's clients."
Second was "reprisal" for Trinidad's handling of "CNN cases." CNN is the acronym used by police to refer to the Communist Party of the Philippines, National Democratic Front, and New People's Army (NPA).
The Defend Negros Network said in a statement on Facebook that an anti-communist group called Kawsa Guihulnganon Batok Komunista had included Trinidad in a list of persons with alleged communist links.
"Defend Negros #StopTheAttacks Network condemn in the strongest terms the senseless killings and the violence aggravated by the Memorandum 32 in the entire Negros Island," the group said in the post.
Sinas held the press conference amid the rising number of killings in Negros Island. At least 15 were shot dead last week, many in their own homes, by masked gunmen. July 25 was the deadliest, with 7 killed in a single day. (READ: 15 shot dead in Negros Oriental in 1 week)
While there are still several towns that are strongholds of the NPA on Negros Island, Sinas said he asked investigators to refrain from jumping to conclusions that every killing on the island was NPA-related.
"If we will see, our tendency is to conclude that it's automatically that (NPA)," Sinas said in a mix of Cebuano and English. "Our statement is that we are investigating the case. [Even] if there are modus that look like the work of the NPA, I told our investigators not to give that conclusion immediately," he added.
The 3rd motive, Sinas said, was Trinidad's role as lawyer in an alleged land dispute issue in Guihulngan City.
"When it involves land, someone usually gets killed," Sinas said. "We're looking into that."
President Rodrigo Duterte has ordered an investigation into Trinidad's killing. (READ: Duterte orders probe into murder of lawyer in Negros Oriental)
The lawyer was killed in the same week that 4 police officers were ambushed by alleged NPA fighters. Duterte was outraged over the incident and promised P3 million to anyone who would deliver the "head" of the communists involved in the attack. – Rappler.com