This is AI generated summarization, which may have errors. For context, always refer to the full article.
Suspended Cebu Gov Gwen Garcia faces the Sandiganbayan, which then lifted an order to arrest her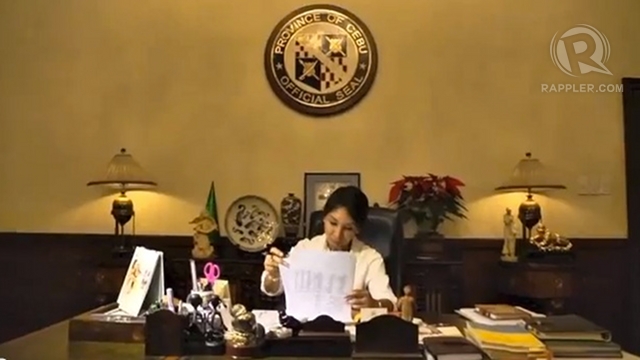 MANILA, Philippines – Facing the anti-graft court Sandiganbayan, suspended Cebu Gov Gwen Garcia entered a not guilty plea on Friday, March 22, for a graft case over the allegedly anomalous P98-M purchase of a Cebu estate.
"She's smiling. She knew that whatever it is, it is all victory for us," said Garcia's lawyer, Tranquil Salvador, in a phone interview with Rappler.
Salvador said Garcia faced the Sandiganbayan "to show people that she is innocent." The lawyer said Garcia is set to return to Cebu soon.
On Thursday, March 21, the Sandiganbayan ordered Garcia's arrest after she failed to attend her arraignment that was scheduled earlier. This was in connection with the controversial P98-M purchase of an estate in Tinaan, Naga town in Cebu.
The Sandiganbayan lifted the order to arrest Garcia, according to Salvador, after she appeared in Friday's arraignment. The anti-graft court also reinstated her bail.
In February, the Ombudsman had declared Garcia, along with 5 other provincial officials, guilty of grave misconduct over the Balili estate purchase in 2008.
The Palace suspended Garcia in December 2012 for grave abuse of authority. – Rappler.com