(UPDATED) Initial probe shows the US Navy ship damaged 4,000 sqm of the reef before a final assessment is conducted by Filipino experts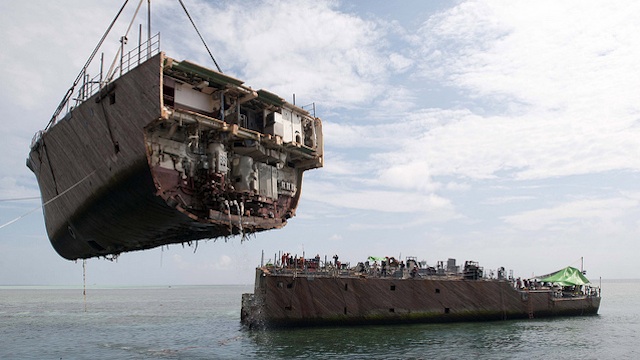 MANILA, Philippines (UPDATED) – The Philippines on Sunday, March 21 welcomed the removal of a US minesweeper that had been stuck on a protected coral reef for 10 weeks, but stressed that compensation must be paid for the environmental damage.
Salvage teams contracted by the US Navy Saturday extracted the last remaining piece of the USS Guardian from the Tubbataha reef, a UNESCO World Heritage site in a remote area of the Sulu Sea.
"We maintain there must be accountability and we will enforce our existing laws," said Herminio Coloma, a spokesman for President Benigno Aquino III.
"We will adopt needed measures to prevent a repetition (of the incident)," he said.
Initial investigation showed that the ship had damaged about 4,000 square meters (43,055 square feet) of the reef, famous for its rich marine life that divers say rivals that of Australia's Great Barrier Reef.
Tubbataha is a protected marine park under Philippine law, and is off limits to any vessel unless permission is granted by park authorities.
Fines can reach up to $585 for every square meter that has been damaged, officials said.
While only a small portion of the marine park has been damaged, the incident has stoked nationalist sentiment and revived debate about a controversial agreement that allows a US military presence in the country.
The United States has repeatedly apologized for the incident, but has not clearly explained why a naval vessel with state-of-the-art equipment ran aground in an area that local officials said was clearly visible in any map.
PH team to conduct damage assessment
Now that the ship has finally been removed, an all-Filipino team is ready to start assessing the extent of the coral reef damage caused by the grounding of the USS Guardian in the UNESCO World Heritage site. 
The Tubbataha Management Office (TMO) said that experts from University of the Philippines Marine Science Institute (UP-MSI), National Institute of Physics (NIP), Bureau of Fisheries and Aquatic Resources (BFAR), De Lasalle University (DLSU-SHIELDS) and the World Wide Fund (WWF) will sail to Tubbataha on April 2 to measure the coral reef damage and determine if restoration efforts are feasible.
The assessment comes 10 weeks after the USS Guardian ran aground the Tubbataha Reef on January 17.
The assessment team is composed of the following:
TMO Park Superintendent Angelique Songco

Dr. Maricor Soriano from the National Institute of Physics

WWF-Philippines Tubbataha Reefs Project Manager Marivel Dygico

Dr. Wilfredo Licuanan, 

Dr. Cesar Villanoy, Miledel Quibilan, Patrick Cabaitan, Narida Eznairah and Norievill España from UP MSI

November Romena and Elsa Furio from BFAR

 
WWF-Philippines Vice Chair and CEO Jose Ma. Lorenzo Tan said the assessment would help ascertain the fines that should be imposed on the US navy. 
"The results will give us an objective basis for the fines that must be collected not just to expedite reef recovery but to upgrade our capacity to conserve our country's most productive reef system."
Republic Act 10067 or the Tubbataha Reefs Natural Park Act of 2009 specifies a fine of about $300 or P12,000 per square meter of damaged reef plus another $300 or so per square meter for rehabilitation efforts.
Total fines might exceed $5 million or P200 million for 4,000 square meters of damaged reef.
Tubbataha Reefs Park Superintendent Angelique Songco said they would not ask for "anything more than the law requires."
"This is not the first grounding incident in the park – all previous cases paid the appropriate fines for damages. We will not ask for anything more than what the law requires. We wish only for the US Navy to be responsible enough when entering our protected areas. However, we are quite confident that the United States Navy – an institution long held in high esteem for its strict adherence to honor and duty – shall honor the rule of law."
In 2011, the US Navy paid Hawaii $15 million or P610 million for a 2009 grounding incident, which ravaged about 890 square meters of coral reef near O'ahu island. – with reports from Agence France-Presse and Purple Romero/Rappler.com