Corona faces only one case - tax evasion - a year after he was dismissed as chief justice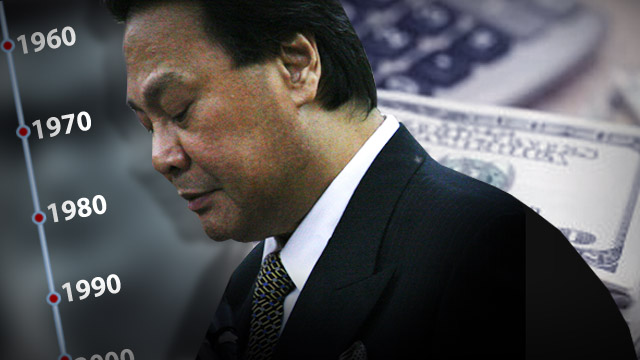 MANILA, Philippines – He might have lost a powerful post, but there's life after the Supreme Court for Renato Corona.
In a statement Wednesday, May 28, on the eve of the first year anniversary of his removal as chief justice, Corona said he spent the past year "getting invited often to small gatherings and lunch or dinner discussion groups" to share his views and experiences, and serving as a wedding sponsor.
He even manages to play the piano and goes to the gym.
"My wife sometimes quips that it seems I am as busy as ever. She thought that retirement would slow me down. But it looks like being idle and taking things easy are not yet in sight for me," he said.
The dismissed chief justice, after all, is a free man–despite the fact that the Senate impeachment court found him guilty of violating the Constitution.
A year after he was convicted, Corona only faces one case which was filed at the Court of Tax Appeals.
Where are the cases?
Even before he was convicted on May 29, 2012, the Ombudsman was already set to investigate him.
Akbayan partylist Rep. Walden Bello and several others filed a forfeiture case against him before the Office of the Ombudsman. They asked Ombudsman Conchita Carpio-Morales to seize Corona's 5 real estate properties in Taguig and Quezon City, the fair market value of which stood at P18 million. They said he could not afford these given his salary as a justice of P79,729 a month (from 2002-2009) and as a Chief Justice earning P91, 226 a month. (Corona was appointed by his former boss and then President Gloria Macapagal Arroyo as Chief Justice in 2010).
The Office of the Ombudsman created a panel to look into Corona's alleged unexplained wealth, which the panel said amounted to P677 million. 
But the Ombudsman could not proceed with the forfeiture case, because sources said that "material documents," such as certified true copies of documents, have yet to be provided to the Ombudsman by the High Court.
Other cases could also be filed against Corona after he was impeached. These  include perjury for lying in his Statement of Assets, Liabilities and Net Worth (SALN) and another criminal case for violating the SALN law or Republic Act 6713.
None of these cases have been filed against him, however.
Cases against family
Corona was instead charged with tax evasion by the Department of Justice (DOJ) before the Court of Tax Appeals. 
In May this year, the DOJ found probable cause to charge Corona with failing to pay P120.5 million in taxes and file his income tax return for 6 years – 2003, 2004, 2005, 2007, 2008 and 2010. This is reportedly for the income he got outside of his compensation as an SC justice during this period.
The Bureau of Internal Revenue (BIR) filed the tax evasion case against Corona before the DOJ in August 2012.
The BIR also filed a tax evasion case against his daughter, Carla Castillo, and son-in-law Constantino Castillo III for also allegedly failing to properly disclose their taxable income for various years. They alleged that Carla has an income tax liability amounting to P9.93 million while her husband's tax liability allegedly totalled P20.25 million.
The DOJ has yet to release its findings on their cases, however.
Another case has been filed against Corona at the DOJ, but this is in relation to a decision he voted on involving 2,000 overseas Filipino workers. The OFWs won in the National Labor Relations Commission,which ordered their US employer to pay them $609 million in backwages. They lost in the SC, however. 
The OFWs filed a case of graft and corruption not only against Corona but the other justices who voted against them – now retired Justices Antonio Nachura, Consuelo Ynares-Santiago, Ma. Alicia Martinez, Minita Nazario, and Ruben Reyes. Arroyo is also a respondent. The DOJ has referred the case to the Office of the Ombudsman.
Corona's wife, Cristina, is also under probe after a former colleague at the John Hay Management Corp (JHMC) in Baguio City accused her of using the corporation's funds for personal use.
Frank Daytec, who was operations manager of JHMC from August 2008-2010, said in his complaint that the Corona couple and their son, Francis, used JHMC funds for their personal use when Cristina was still JHMC president and chairperson in 2007. 
Cristina has denied this. 
Family is okay
A year after his trial, Corona said his "family is fine."
"We have moved on with our lives, convinced that "tough times don't last but tough people do." We trust God's assurance that there will be better days ahead. We will survive these adversities because we will not allow anyone to break our bond and spirit as a family. "
He maintained his impeachment was driven by vendetta. 
"The gargantuan funds it wasted in my sham impeachment trial could have been better used for education, school buildings, increased salaries of governent employees, health care and medicines for the poor, more courts and halls of justice, infrastructures, etc. And for what — to remove a sitting Chief Justice just so that the President can appoint his own?" –  Rappler.com