PAO chief Percida Acosta says the accused who cannot afford the P82,000 bail will wait for the results of the DOJ re-investigation of their cases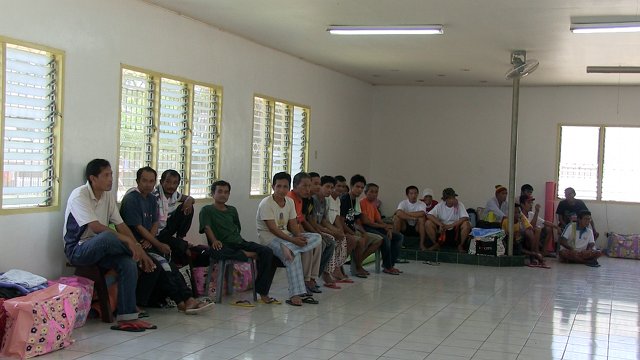 MANILA, Philippines – Two of the 38 alleged members of the Royal Security Force (RSF) who were arrested and detained in April recently posted bail.
Public Attorney's Office (PAO) chief Percida Acosta identified them as Alhabsi Batunan and Ernesto Sambas. The information was confirmed by Tawi-Tawi Clerk of Court Rino Sajili.
They each paid a bail bond of P82,000. It was originally P164,000, but the Tawi-Tawi court granted a 50% reduction of their bail. They are facing charges of violation of election gun ban, illegal possession of firearms, and inciting to war.
The alleged RSF members sailed to Sabah earlier this year to stake the claim of self-styled Sulu Sultan Jamalul Kiram III on the disputed territory. The 38 were arrested on their way back to the Philippines. Kiram's camp sought the assistance of the PAO.
Acosta sought to reduce the bail to P9,000 for each "royal" soldier to cover all 3 charges – or P3,000 per charge – but the Department of Justice opposed the P3,000 bail on the ground that it is "too low."
The court denied the motion to reduce bail – with finality – on Tuesday, June 4. 
Acosta said the rest of the detained RSF members cannot afford the bail. They will wait for the re-investigation of the case, said Acosta.
"We will wait for the re-investigation by the regional state prosecutor of Zamboanga," Acosta said. 
Acosta earlier said two of the 38 in detention are not members of RSF but only requested to ride with them from Sabah to Tawi-Tawi. 
The standoff between Kiram's men and Malaysian security forces drove thousands of Filipinos to evacuate Sabah and return to the Philippines over fears of a crackdown on Filipinos there. – Rappler.com