They were among the 12 abducted last week by rogue members of the Moro National Liberation Front due to rido or clan war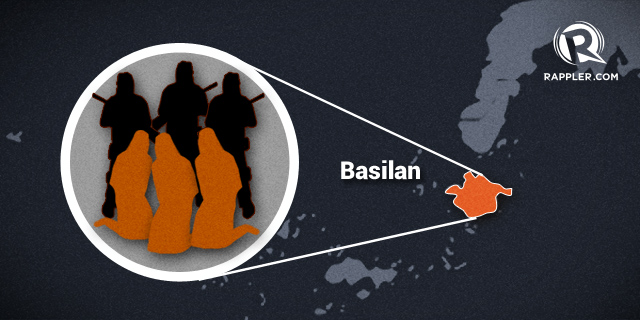 MANILA, Philippines – The 8 remaining residents of Basilan who were taken captive by allegedly rogue members of the Moro National Liberation Front (MNLF) last week due to rido or clan war were released on Monday, July 15. 
"The 18th Infantry Battalion in coordination with the stakeholders in Basilan… facilitated the safe and successful release of 8 abducted civilians at Barangay Bohe Lebung, Tipo-tipo, Basilan Province, around 11:40 in the morning today," according to a statement from the Philippine Army's 1st Infantry Division (ID). 
The statement said the Moro Islamic Liberation Front (MILF), the MNLF, and local officials in Basilan facilitated the release.
The military tagged Commander Hassan alias Addang to be behind the abduction of total 12 Basilan residents on Thursday, July 11. Four minors had been released earlier, just hours after the abduction.
READ: Suspected MNLF members abduct 12 in Basilan
"I congratulate the local government units of Basilan, our MNLF and MILF brothers, and our soldiers for making the contending parties solve their disagreement in a peaceful way," said Bgen Felicito Virgilio M Trinidad Jr, acting commander of 1st ID.
The 8 were identified as: Faija Banua, Satra Banua, Haide Banua, Dalma Ambihal, Hapsa Ambihal, Kalipa Ambihal, Pasri Ambihal, and Haipa Ambihal. – Carmela Fonbuena/Rappler