His ratings in Balance Luzon and Mindanao suffer a little, but overall 7 in 10 Filipinos continue to trust President Aquino and are satified with his performance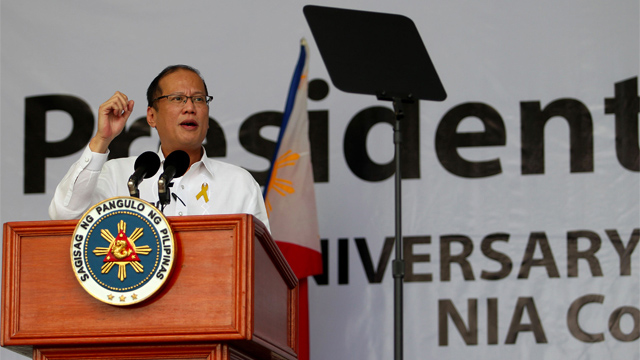 MANILA, Philippines – Seven in 10 Filipinos continue to trust President Benigno Aquino III and are satified with his performance. 
Surveys conducted weeks before the State of the Nation Address (SONA) show the President's ratings suffering a little in Luzon (minus the National Capital Region) and Mindanao, according to surveys released by polling firms Social Weather Stations (SWS) and Pulse Asia on Monday, July 22. 
However, his big gains in the Visayas pushed the average significantly higher compared to surveys in March. 
The SWS survey conducted June 28-30 shows Aquino has satisfaction ratings of 76%. Only 12% are dissatisfied, giving Aquino a net satisfaction rating of 64%. It is higher than his 59% net ratings in March.
Pulse Asia also shows 77% continue to trust Aquino and 73% approve of his performance. 
SWS shows Aquino enjoys 15% and 4% improvement in his satisfaction ratings in the Visayas and Metro Manila, respectively.
In the same survey, he dropped 7 percentage points in Mindanao and 2 percentage points in Balance Luzon. The error margin of the SWS survey is 3%, which means the drop in his NCR numbers is insignificant. 
In Pulse Asia, Aquino's trust ratings improved by 15 percentage points in the Visayas and Mindanao, and 4 points in NCR. But it suffered a little in Balance Luzon, dropping 5 points. The error margin is also 3%.
Pulse Asia also asked if respondents approved of Aquino's performance. The answers show a similar trend. In the Visayas and Mindanao, his ratings improved by 7 and 10 percentage points, respectively. He dropped 1 percentage point in NCR and 6 percentage points in Balance Luzon.
Based on socio-economic status, Aquino improved his Pulse Asia ratings in the ABC and E class. Considering error margins, it is stagnant in the D class.
In the SWS survey, Aquino improved his ratings in the ABC class from 78% to 86%. Changes in the D and E class are insignificant. 
Malacañang welcomed the survey results. 
"These unprecedented ratings for a chief executive since Pulse Asia began its trust and performance poll are indicative of the Filipino people's continued support for and confidence in the President and the sweeping changes and programs he has championed since day one," presidential spokesman Edwin Lacierda said in a statement.
"Halfway through the President's term, we take these survey results as an affirmation that our reforms, good government initiatives, and social investments are producing results," he added. – Rappler.com