The Philippine Navy's newly acquired Hamilton-class cutter BRP Ramon Alcaraz will be based at the former US military base in Subic, Zambales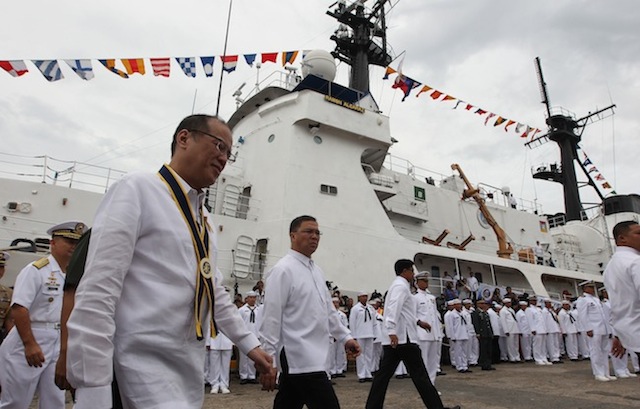 SUBIC BAY FREEPORT, Philippines — The Philippine Navy's newly acquired Hamilton-class cutter BRP Ramon Alcaraz will be based at the former US military base here.
"For the moment, this is where they are (warships) to be initially based. The Philippine Navy now is in the process of developing some of our ports and bases. This is part of current modernization program," Navy chief Vice Admiral Jose Luis Alano told reporters on the sidelines of the arrival ceremony for Alcaraz held at the Alave Pier here.
Subic is 140 nautical miles away from disputed territory Scarborough or Panatag Shoal. The twin ship of Alcaraz, BRP Gregorio Del Pilar, previously figured in a standoff with Chinese fishing vessels there. 
But Alcaraz will not get missions until it is officially commissioned in October. It will be dry docked for the next two months and will be painted gray, the navy's official color. Its armaments will be upgraded, too.
Like Del Pilar, the main weapon of Alcaraz is a MK75 76 Main Battery. It also has an MK36 SRBOC Missile Decoy Chaff. MK38 25mm Machine guns and M2HB .50 caliber Machine Guns will be added. 
Intensified sea patrol
President Benigno Aquino III welcomed the arrival of Alcaraz as a "boost" to the country's "capability to counter any threat."
READ: Philippines vows intensified sea patrols
Alano said patrolling the West Philippine Sea will be one of the first missions of Alcaraz, although it will also be deployed to other parts of the country. 
These are part of the areas where they will be deployed, Western Philippine Sea is part of that," he said.
A large ship, Alano said Alcaraz allows the navy a lot of time to patrol the entire country. 
"Because of its large size and endurance capabality, we would be able to deploy it in any part of the country. The endurance of this vessel is 45 days. To patrol or go around the Philippines, it would take 7 days. You have a lot of time to patrol all parts of the country," Alano said. 
The defense department earlier presented plans to move navy and air force camps to Subic. 
"As part of what we are doing, we are trying to look for where we could be able to best base our assets," said Alano. 
Foreign Secretary Albert Del Rosario also talked about increased military aid from the US and the possibility of acquiring a third Hamilton-class cutter. This is on top of the 2 new frigates that the defense department is going to buy and the naval helicopters that are arriving in December. 
"Whatever resources we have, we commit ourselves to make do with whatever capabilities provided for us," said Alano. — Rappler.com