US Defense Secretary Chuck Hagel visits Manila amid negotiations for allowing US troops wider access to Philippine military bases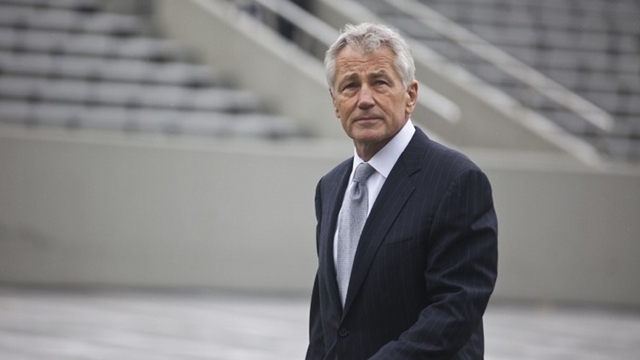 MANILA, Philippines (Updated) – US Secretary of Defense Chuck Hagel will be in Manila on Thursday and Friday, August 29-30, to conclude his week-long Southeast Asian trip that is meant to stress Washington's strategic "pivot" to the Asia-Pacific.
He earlier met with Malaysian Prime Minister Najib Razak, Indonesian President Susilo Bambang Yudhoyono, and his defense counterparts in the two countries to discuss military cooperation against the backdrop of security issues in the West Philippine Sea (South China Sea.)
READ: Hagel to stress US 'pivot' in Southeast Asia tour
From Jakarta, Hagel jumped to Brunei on Wednesday for the ASEAN Defense Ministers (ADMM) annual retreat. He will participate in the ADMM-Plus meeting. 
The US pivot to Asia-Pacific means a resurgence of US warships and planes, which is believed to be a move aimed to contain China's aggression. All four countries have territorial claims that overlaps with China's.
Before leaving for Southeast Asia, Hagel first met with US Pacific Command chief Admiral Samuel Locklear and visited with United States Marines at Kaeohe Bay. Locklear himself visited Manila at least twice since last year. 
Hagel's visit to Manila also comes at a time when the US and the Philippines are framing a new agreement that will allow increased presence of US troops in the Philippines and give them wider access to military bases. 
Armed Forces of the Philippines Chief of Staff Gen Emmanuel Bautista himself was in the US to meet his counterpart US Joint Chiefs of Staff General Martin Dempsey to discuss the new arrangement. 
Vietnam Defense Mini
ster Gen 
Phung Quang Thanh was also in the Philippines this week to discuss military cooperation with Defense Secretary Voltaire Gazmin.
– with reports from Agence-France Presse