Government corporations attached to implementing agencies – used as PDAF channels by NGOs – will be abolished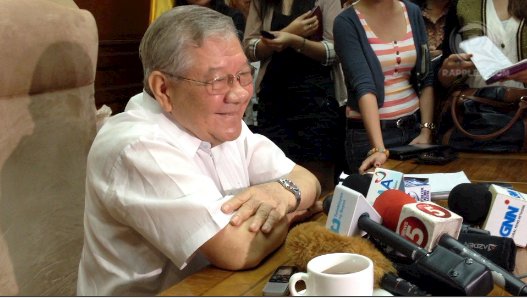 MANILA, Philippines (Updated) – "Let's forget the NGOs. There are going to be no more NGOs."
This, according Speaker Feliciano Belmonte Jr, is the meat of the President's announcement Friday, August 23, that the pork barrel system will be overhauled.
President Benigno Aquino III said it's time to "abolish" the much-maligned Priority Development Assistance Fund (PDAF), but he only meant introducing reforms to how the discretionary fund allocated to lawmakers will be utilized.
Belmonte understands that some lawmakers may resist the changes but he said it is not "unreasonable" and he hopes that "I'll be able to explain."
"May mga magagalit, dahil sa binabago eh. It's something that they had been used to. Babaguhin but I'm very confident. Ang kauna-unahan kong kakausapin ay ang mga leaders ng aking coalition, as well as the opposition. I will explain to them kung ano ito," Belmonte said in a chance interview in Malacañang right after the President's announcement.
(Surely, many will complain, because changes will be introduced…. The first ones I will talk to are the leaders of my coalition [in the House], as well as the opposition. I will explain to them what this is about.)
The presence of House Speaker Feliciano "Sonny" Belmonte and Senate President Franklin Drilon in Aquino's press conference shows that "wide consultations have been conducted with House leaders and members of Congress," said Camarines Sur Rep Rolando Andaya, who was the budget secretary during the period covered by the Commission on Audit report. 
House Majority Leader Neptali "Boyet" Gonzales II told reporters the House "will certainly abide" by Aquino's proposal. 
"Like the President, we are not numb, unmindful and insensitive to the growing clamor of our people for the abolition of the pork barrel," Gonzales said in a text message. 
The PDAF is a lumpsum fund in the budget law. Each senator and each representative gets P200 million and P70 million respectively every year. Lawmakers are practically free to allocate those funds to "priority projects" nationwide or to their districts, depending on the constituency of the lawmaker. 
In recent years, the introduction of "soft" projects, such services and training – as opposed to "hard" or infrastructure projects – paved the way for non-governmental organizations to (NGOs) to get portions of the lawmakers' pork barrel.
A number of them, although unqualified, got most of the funds through government-owned and -controlled corporations (GOCCs) attached to agencies and used them in ghost projects.
READ: Collusion? Solons pick NGOs that get PDAF
Budget deliberations could extend
President Aquino also announced that several GOCCs like ZNAC Rubber Estate Corporation (ZREC) and National Agri-business Corp (Nabcor) will be abolished. These are the GOCCs that funneled the funds to the questionable NGOs. 
What will happen now is Congress will have to break down what every lawmaker intends to do with the PDAF. This will certainly make the budget deliberations longer.
Belmonte appealed to the members of the House of Representatives to do their consultations soon. 
"Nanawagan ako sa mga congressman. Ngayon palang ilista na ninyo, manghingi na kayo ng mga suggestions from your barangay captain and mayors. Gumawa na kayo ng listahan ng mga projects na gusto ninyong gawin," Belmonte said.
(I'm calling on congressmen. This early, list down [your preferred projects], get suggestions from your barangay captains and mayors.)
"Even if we have to meet more than the usual number of days, we will do it to make sure the system is in place before the end of the year," Belmonte said in a mix of English and Filipino.
Aquino's decision was prompted by calls to reform the pork barrel following shocking revelations on the widespread misuse of the funds, which was later verified in a goverment audit. 
"It's a very good eye opener for everybody, including myself," Belmonte said. – Rappler.com