This is AI generated summarization, which may have errors. For context, always refer to the full article.
In a unanimous vote, the justices say no releases will be made for the rest of 2013. Oral arguments set for October 8.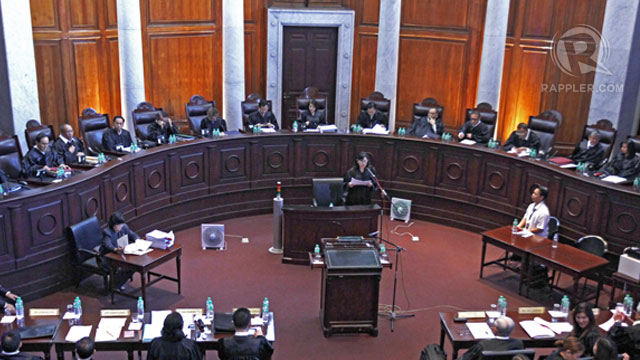 MANILA, Philippines (UPDATED) – The Supreme Court on Tuesday, September 10, stopped the release of the lawmakers' Priority Development Assistance Fund (PDAF), or pork barrel, which is now being investigated by the Senate and the National Bureau of Investigation.
After an en banc meeting Tuesday, the High Tribunal issued a temporary restraining order (TRO) on the release of the remaining PDAF in the 2013 national budget and the Malampaya Funds, particulary those that the law allows the President to use. 
The issuance of the TRO was a unanimous decision and based on at least 3 petitions filed against President Benigno Aquino III, Senate President Franklin Drilon and Executive Secretary Paquito Ocha Jr by various groups and individuals.
One petition was filed by Greco Belgica; another by Samson Alcantara of the group Social Justice Society; and another by Pedrito Nepomuceno.
Oral arguments have been scheduled on October 8.
The multi-billion pork scandal, running for 3 months now, has linked Janet Lim Napoles to various lawmakers. She is accused of siphoning off PDAF through dubious NGOs with the consent of lawmakers or their chiefs of staff. She surrendered to the President after a serious illegal detention case was filed against her and her brother Reynald Lim for the alleged abduction of their cousin-turned-whistleblower Benhuy Luy.
READ: Napoles: From scandal to surrender
The TRO enjoins the "Department of Budget and Management, National Treasury, Executive Secretary, or any persons acting under the authority, from releasing" the following:
1.) The remaining PDAF allocated to the members of Congress under the General Appropriations Act of 2013; 
2.) The Malampaya Funds under the phrase "for such other purposes as may be hereafter directed by the President" under Section 8 of Presidential Decree 910.
The Office of the President was given 10 days to comment.
On August 23, President Aquino announced his plan to reform the PDAF. He said he has stopped its release pending the changes that need to be implemented to make the disbursement more transparent.
The pork barrel scandal has enraged many Filipinos and this culminated in the August 26 #MillionPeopleMarch at the Luneta and key cities in the Philippines and abroad. – Rappler.com