'A member of Congress may only be suspended by a vote of majority of all its members,' says the House majority leader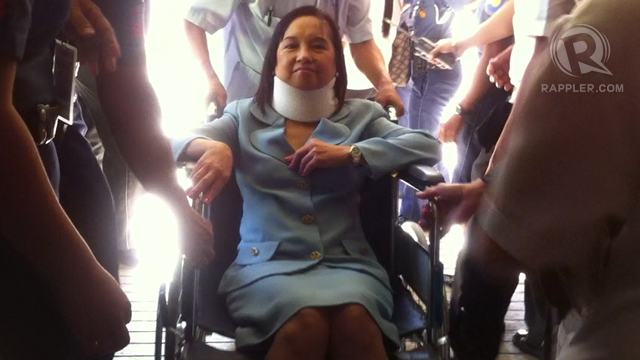 MANILA, Philippines – The House of Representatives will not implement any suspension order that the Sandiganbayan may issue against former President and now Pampanga Rep Gloria Macapagal Arroyo.
In a statement, House majority leader Mandaluyong Rep Neptali Gonzales II said they will defy it. "Even if the Sandiganbayan suspends her, it will not be implemented by the House," said the House leader.
Ombudsman Conchita Carpio-Morales dismissed the statement. "That is his opinion," she said in a press conference on Wednesday, April 18.
"We will cross the bridge when we come to it. It is up to the Sandiganbayan to consider the motion. We have filed the motion. If the Sandiganbayan grants it, well and good. If not, it is up to our prosecutors to examine what remedy it is going to take," she added.
Government prosecutors on Tuesday, April 17, asked the Sandiganbayan's 4th division to suspend the former president from office based on two pending graft charges against her in connection with the botched NBN-ZTE deal.
It is the position of government prosecutors that Arroyo's preventive suspension is part of the procedures mandated under RA 3019, or the Anti-Graft and Corrupt Practices Act.
Not possible
But Gonzales explained: "The House of Representatives has been consistent that a member can only be suspended by a vote of majority of all the members for any misconduct committed during his or her incumbency."
Section 16 (3), Article VI of the 1987 Constitution reads: "Each House may determine the rules of its proceedigns, punish its Members for disorderly behavior, and, with the concurrence of two-thirds of all its Members, suspend or expel a Member. A penalty of suspension, when imposed, shall not exceed sixty days."
It is the House ethics committee that may investigate a member of the House. Gonzales said they won't initiate an ethics case against Arroyo either.
"Congresswoman Gloria Macapagal Arroyo is being prosecuted for acts she allegedly committed before she became a congresswoman. [It is] beyond the jurisdiction of the ethics committee. This is in compliance with the Constitution," Gonzales said.
But in their motion before the Sandiganbayan, the prosecutors said Arroyo's preventive suspension is part of the procedures mandated under the Anti-Graft and Corrupt Practices Act or RA 3019.

"…(T)he suspension of a public officer against whom a valid information has been filed for any offense defined and penalized under said Act…or for any offense involving fraud upon government or public funds or property, whether as a simple or as a complex offense and in whatever state of execution and mode of participation is mandatory," it noted in the motion.
SC case

Prosecutors cited a Supreme Court ruling in the case of Libanan vs Sandiganbayan that the graft court "is bound to issue an order of suspension as a matter of course, and there seems to be no ifs and buts about it."
During her April 11 arraigment, Arroyo submitted pleas of not guilty to the 2 counts of graft and one count of violation of RA 6713 or the Code of Conduct and Ethical Standards for Public Officials and Employees.
Also charged were her husband Jose Miguel, former Commission on Elections chair Benjamin Abalos and ex-Transportation Secretary Leandro Mendoza.
Charges against them stemmed from allegations of fraud and abuse of public office in connection with the scrapped US$329-M national broadband network (NBN) project proposed by Chinese firm, Zhongxing Telecommunication Equipment (ZTE).
Graft investigators said they used their influence to push for the approval of the NBN-ZTE deal despite irregularities and reports of massive bribery and cost-padding. – Rappler.com