Corona is reportedly asking for P50 million worth of retirement benefits from the Supreme Court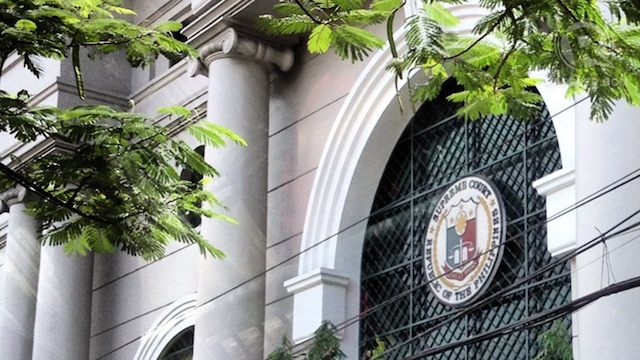 MANILA, Philippines – A group of former government officials on Sunday, December 1 urged the Supreme Court (SC) to "take a principled stand" in the retirement benefits case of former chief justice Renato Corona.
"The case raises many questions of public concern, the people need to know how individual justices vote on the issue," said the Former Senior Government Officials (FSGO) in a press statement.
Corona is reportedly asking for P50 million worth of retirement benefits from the Supreme Court.
"He did not retire; he was thrown out of office. He has not been accepted into the Association of Retired Justices," noted the FSGO.
Corona was impeached in 2012 for betraying public trust and committing culpable violation of the Constitution by misdeclaring his peso and dollar accounts in his statement of assets, liabilities and net worth (SALN). He was found guilty by the Senate, acting as an impeachment court, and was ousted from office on May 29, 2012.
FSGO wondered how the P50 million was computed and where it will be sourced from. They referred to the Salary Standardization Law, which prescribes a uniform system for determining compensation and benefits awarded to public officials.
The group also cited the case of Davao clerk of court Delsa Flores, who was denied of her retirement benefits in 1997 for failing to disclose ownership of a public market stall in her SALN. Her case was mentioned in a speech by President Benigno Aquino III in February 2012.
"Corona is reportedly still facing charges on multiple issues related to the truthfulness of his SALN and the taxes he should have paid," said the FSGO.
"Do those who achieve higher positions gain impunity from sanctions for offenses even more serious than that committed by the Davao clerk?" asked the group.
"Nothing will more surely provoke popular outrage and undermine trust in the government than an SC affirmation of what the masa (Filipino people) already suspect: that two sets of laws govern the country, one for the subordinates and another for the superiors."
Added the FSGO, "the Supreme Court's ruling on the Corona retirement case can help dispel the belief that those empowered to make the rules blatantly do so to favor themselves.
"By taking a principled stand on the case, the Supreme Court can reinforce its own credibility and the people's confidence in our democracy."
The verdict on Corona's retirement benefits case is expected this month, a source told Rappler.
FSGO is composed of former government executives, including former education secretary Edilberto de Jesus and undersecretary Isagani Cruz, former finance secretary Jesus Estanislao, and former civil service commissioner Karina Constantino-David. – Rappler.com