They are asking the High Court to invoke its power to 'strike down laws and regulations as inconsistent with the 1987 Constitution'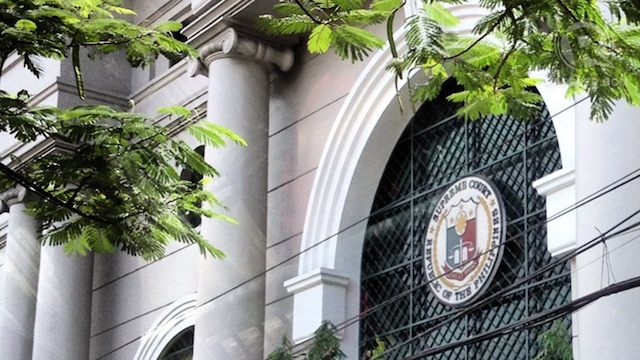 MANILA, Philippines – Lawmakers from the Makabayan bloc on Thursday, December 19, sought for a temporary restraining order (TRO) against the record-high price hike of the Manila Electric Company (Meralco).
Citing "transcendental public interest," the lawmakers petitioned the Supreme Court to invoke its power to "strike down laws and regulations as inconsistent with the 1987 Constitution" following a judicial review.
Meralco and the Energy Regulatory Commission (ERC), which approved of the rate hike, are named respondents in the complaint.
Among the representatives who signed the petition were: Bayan Muna's Neri Javier Colmenares and Carlos Isagani Zarate, Gabriela's Luz Ilagan and Emmi de Jesus, Alliance of Concerned Teachers' Antonio Tinio, and Kabataan's Terry Ridon.
Meralco's P4.15-per-killowatt-hour (kWh) rate increase for December is the highest ever to be imposed by the power company. The hike, P3.44/kWh of which was the generation charge, resulted from the shutdown of the Malampaya gas field and outages of power plants where Meralco sources its power requirements. 
Meralco says it was forced to source power from plants that use diesel, which is more expensive than natural gas.
The rate hike will come in 3 tranches: P2.41 kWh in December 2013, P1.21 kWh in February 2014, and P0.53 kWh in March. It was approved by the ERC on December 9.
The petitioners said ERC's approval of the staggered increase "was done through a mere letter, not by a final order, resolution, or decision, which can be the subject of a motion for reconsideration to the ERC under Rule 23 of its Rules of Practice and Procedure." 
The lawmakers want a probe on whether ERC "committed grave abuse of discretion amounting to lack or excess in jurisdiction" in its provisional approval of Meralco's proposal.
Meralco allegedly sought for the staggered increase to make it easier for its consumers to bear the price increase.
The petition also mentioned the simultaneous and unscheduled outages in different power plants of Meralco's suppliers.
Several quarters questioned the shutting down of the plants simultaneously as they said a possible collusion happened, sabotaging market competition.
The Department of Justice on Monday, December 16, announced it will conduct a probe into the matter with recommendations filed by January 2014. – Rappler.com