Anything can happen with the Supreme Court ruling on the cybercrime law. The SC can even rule against libel altogether, not just online libel.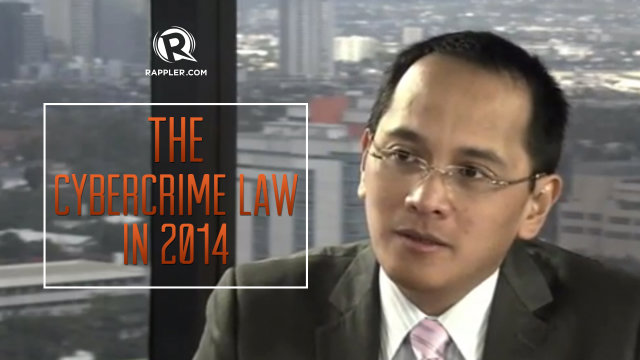 MANILA, Philippines – The Supreme Court (SC) might just spell victory for our civil liberties if, in its decision on the controversial Cybercrime law, it declares libel unconstitutional.
This is the best case scenario for the long-awaited SC ruling, according to technology law expert JJ Disini. (WATCH: The Cybercrime law in 2014)
"I think that it's good that the court takes out libel altogether, so they render it unconstitutional, and they invalidate all other previous conditions, or set people free who are now in jail for libel, and then dismiss all those cases," he said in an interview with Rappler.
The High Court is set to rule on the Cybercrime Prevention Act, temporarily halted by the SC a month after it was signed into law in September 2012. 
The law has heavily-debated provisions on online libel, automatic take-down of online content, and state monitoring of online activity.
Disini explained that if these provisions are declared unconstitutional, the rest of the law can still be implemented.
The University of the Philippines law professor was among those who questioned the constitutionality of these provisions before the High Tribunal.
The law's online libel clause imposes a penalty one degree higher than current penal provisions on libel on any platform. Disini said, as argued by co-petitioner, lawyer Harry Roque, that this is a form of double jeopardy – being punished more than once for the same offense. 
"It says that even though you've been charged with libel under the Revised Penal Code, you can be charged again for online libel under the Cybercrime Prevention Act. And you're open to a greater liability… So, it's double liability," he explained.
But "anything can happen" with the SC ruling, he said. The Court can even rule against libel altogether, not just online libel.
"That would do wonders for freedom of expression, freedom of the press," Disini said.
Prospects
But what happens if the entire law is declared unconstitutional?
Disini said it's going to be "back to square one."
The Philippine eCommerce Act will serve as the country's cybercrime law.
"Congress would then need to reenact a Cybercrime Prevention Act. There are already bills [pending]. The Department of Justice already filed its amended cybercrime law," he explained.
Currently, crimes covered by the Cybercrime Prevention Act of 2012 are also covered by other Philippine laws.
Identity theft is covered by RA 10173 or the Data Privacy Act, while credit card fraud is a violation of RA 8484 or the Access Devices Regulation Act.
Cyber-pornography targeting minors is currently punishable under RA 9775 or the Anti-Child Pornography Act.
Malacañang previously said the cybercrime law will help curb the growing and alarming cash-for-cybersex scheme in the Philippines that targets mostly minors. – Rappler.com