The Aquino administration also suffered negative net ratings in terms of fighting inflation and ensuring that oil firms don't take advantage of oil prices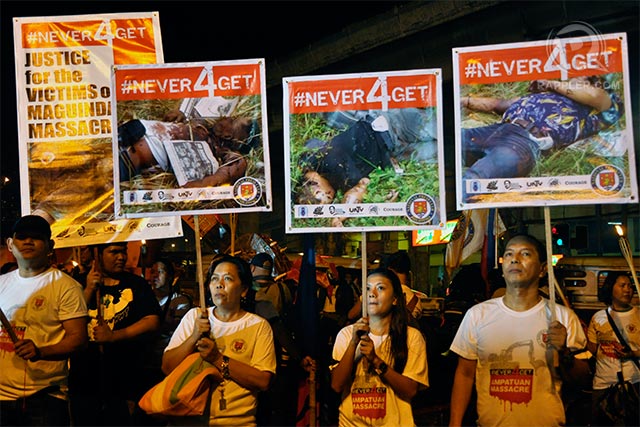 MANILA, Philippines – The administration of President Benigno Aquino is enjoying "unchartered popularity" at +51% net satisfaction ratings, but is suffering a black eye in failing to resolve the Ampatuan massacre, the Social Weather Stations (SWS) said.
SWS President Mahar Mangahas on Tuesday, January 28, presented The 2014 SWS Survey Review to show how Filipinos perceive the peformance of the government and other institutions on various issues.
Aquino's net satisfaction rating is a big feat considering his predecessors never reached +50%, Mangahas said.
The Aquino administration registered a -26% net satisfaction ratings in resolving the massacre, four long years since the international embarassment happened on 23 November 2009 in the town of Ampatuan, Maguindanao province.
"This is a sore point," said Mangahas. "It has been getting worse. It has never been positive. This is the big issue. People are getting more and more impatient."
It has always been negative, but there was a little improvement in the ratings in 2012. Last year, it reached its lowest. (READ: Impunity reigns 4 years after Maguindanao massacre – groups)
At least 86% of the 1,550 respondents said the pace of the trial is "much too slow." It is the highest dissatisfaction from 75% complaining about the pace in March 2011 and 74% in August 2012.
Another 12% said it is "moving in the right pace" and 2% said it is "too much in a hurry."
Last year, various groups reminded the President that resolving the massacre was his campaign promise. 
Reacting to the survey results, Professor Edna Co of the University of the Philippines College of Public Administration and Governance (UP-NCPAG) said the SWS presentation shows how government performance cannot depend on the sincerity of the President alone.
In the case of the Maguindanao massacre, she said the negative ratings on the government's performance "is a stigma to the performance of the Department of Justice."
"The impunity, the injustice, and the disappointment that we find here have to do with certain institutional responses. It cannot depend on one single person," Co said.
The Aquino administration rated "very good" in terms of helping victims of disasters (+68%), providing basic elementary and highschool education (+67%), defending the country's territorial rights (+52%), and transparency in government activities (+51%), foreign relations (+50%).
It rated "good" in helping the poor (+49%), promoting welfare of OFWs (+44%), providing jobs (+36%), and fighting terrorism (+33%).
It got "moderate" ratings in reconciliation with communist rebels (+21%), reconciliation with Muslim rebels (+21%), and fighting crimes (+18%).
It got "neutral" ratings in eradicating graft and corruption (+8%) and ensuring that no family will be hungry (+2%).
The Aquino administration also suffered negative net ratings in terms of fighting inflation (10%), ensuring that oil firms don't take advantage of oil prices (-14%). – Rappler.com