This is AI generated summarization, which may have errors. For context, always refer to the full article.
The plate number of the ill-fated Florida bus that fell into a ravine in Bontoc, Mt. Province, belongs to another bus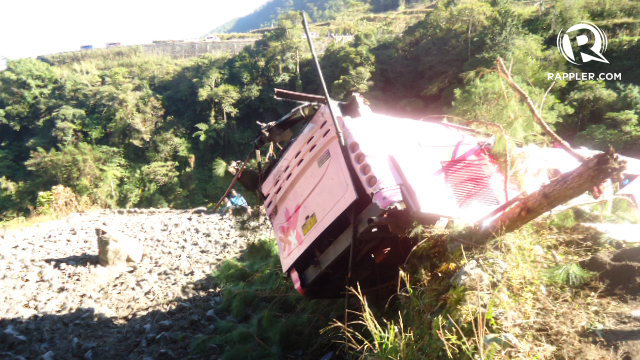 MANILA, Philippines – The Land Transportation Franchising and Regulatory Board (LTFRB) suspended the operations of G.V. Florida Transport, which owns the bus that fell into a ravine in Bontoc, Mt Province, killing 14 people.
In an order on Saturday, February 8, the agency said the suspension will last 30 days and covers 228 buses of Florida and 10 buses of Mt Province Cable Tours. 
The LTFRB said the ill-fated bus, with plate number TXT-872, was not authorized to operate. Its engine and chassis numbers were different from the ones listed under the plate number's Certificate of Registration filed at the Land Transportation Office (LTO).
"These findings show that the bus involved is not duly authorized by this Board to operate as a for-hire vehicle." However, to make it appear authorized, "respondents attached to it plate number TXT-872 which belongs to another bus," said the order.
The board found out that the plate number was authorized under Norberto M. Cue Sr, operator of Mt. Province Cable Tours.
LTFRB's Technical Division certified that "no Application for Approval of Sale and Transfer has been filed by Norberto M. Cue Sr. in favor of G.V. Florida."
"In view of this, there is no authority for G.V. Florida to operate the said bus under its name."
The order was signed by LTFRB chairman Winston Ginez and board members Roberto Cabrera III and Ronaldo Corpus.
Both companies were also ordered to explain, within 72 hours from receipt of the order, why their Certificates of Public Convenience should not be suspended, cancelled, or revoked due to the accident and the board's findings.
Fourteen people died in the accident on Friday, February 7, including comedian Arvin "Tado" Jimenez, Solar News employee Bam Morillo, and 2 foreigners – a Dutch and a Canadian national. A total of 31 others were seriously hurt.
The surviving passengers have been airlifted out of the ravine and evacuated to nearby hospitals.
The LTFRB set a hearing of the bus companies' cases on Wednesday, February 19.
Only last month, the LTFRB cancelled the franchise of another bus company, the Don Mariano Bus Transit, after one of its buses plunged off the southbound lane of the elevated skyway in Pasay on Dec 16, 2013, killing at least 18 people including its diver.
The bus company's franchise was cancelled because it failed to follow the terms and conditions of its permit, and neglected to ensure safety in its operations. – Rappler.com