Prosecutors, however, are not ready to rest its case against 76 other accused due to pending appeals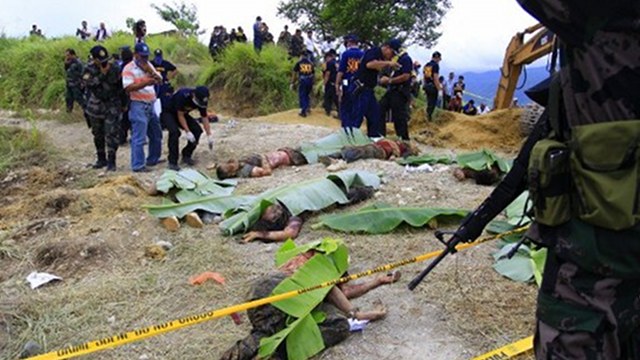 MANILA, Philippines – The trial against alleged perpetrators of the infamous Maguindanao massacre is one step closer to resolution.
In a manifestation released Tuesday, March 4, the prosecution rested its case against Datu Andal "Unsay" Ampatuan Jr and 27 other suspects in the brutal killing of media men, lawyers, relatives, and supporters of an Ampatuan political rival, Esmael Mangudadatu.
Andal Ampatuan Jr allegedly led the gunning down on November 23, 2009, of at least 58 victims, including 32 journalists. Their bodies were dug out in a mass grave in Sitio Masalay, Ampatuan, Maguindanao. 
The prosecution terminated the presentation of its primary evidence in support of the cases against the following accused:
Datu Andal "Unsay" Ampatuan, Jr

P/CInsp Sukarno Dicay

Moktar Daud

Zakaria Akil

Manny Ampatuan

Misuari Ampatuan

P03 Gibrael Alano

SP02 Badawi Bakal

Mohamad Balading

PO3 Ricky Balanueco

PO1 Michael Macarongon

SPO1 Samad Maguindara

PO1 Abdulbayan Mundas

PO1 Badjun Panegas

PO1 Samir Solaiman

PO1 Datu Jerry Utto

Armando Ambalgan

Mohades Ampatuan

Salik Bangkulat

Macton Bilungan

Maot Dumla

Nasser Esmael

Edres Kasan

Nasser Talib

Salipad Tampogao

P/Supt Abusama Mundas Maguid

Ibrahim Kamal Tatak

Rakim Kenog
The panel of prosecutors, however, said it is not ready to rest its case against 76 other accused due to pending appeals to have the testimonies of certain "vital" witnesses to be admitted in court and pending the resolution of a motion to have a police inspector as state witness.
The Department of Justice (DOJ) is under marching orders from President Benigno Aquino III to have the suspects in the massacre convicted before his term ends in 2016. 
Justice Secretary Leila de Lima earlier said the Ampatuan massacre is seen "as the single most important case" needed to be resolved to show the public the government is serious in putting an end to the culture of impunity afflicting the country. (READ: DOJ: Ampatuan convictions by 2016)
A 2014 survey shows the Aquino administration registered a -26% net satisfaction ratings in resolving the massacre, considered a sore point in his "unchartered popularity" of +51% in over-all satisfaction ratings. 
The Ampatuans has been the ruling clan in Maguindanao for decades, allegedly expanding their influence by rigging elections in favor of former President Gloria Macapagal Arroyo. – Rappler.com