China is accusing the Philippines of attempting construction at the disputed Ayungin Shoal off Palawan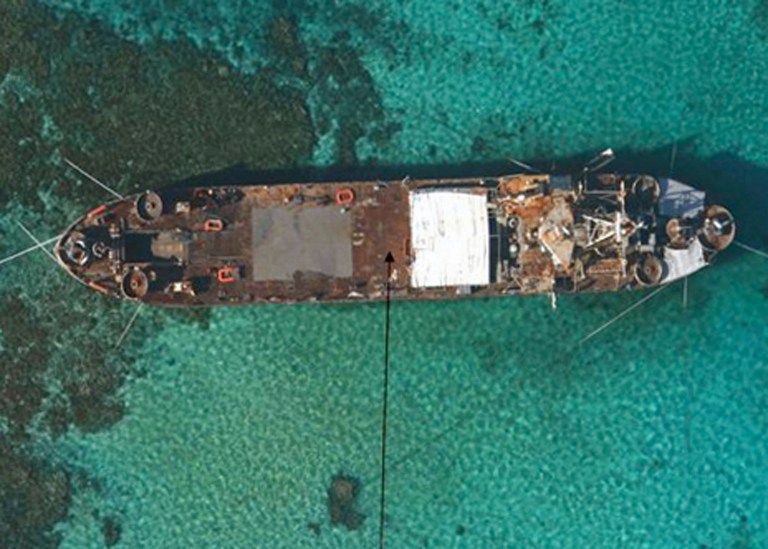 MANILA, Philippines – China is accusing the Philippines of attempting construction at the disputed Ayungin Shoal in the West Philippines Sea (South China Sea.)
"Chinese Foreign Ministry spokesman Qin Gang said coast guard vessels, patrolling the Ren'ai Reef, identified two ships loaded with construction materials and carrying the flags of the Philippines, approaching the reef on Sunday," Chinese state media Xinhua reported on Monday, March 10.
The Chinese Coast Guard drove away two Philippine ships from the shoal, a tiny group of islets and reefs in the Spratly Islands chain, Xinhua said. The area is about 200 kilometers (120 miles) northwest of Palawan, the nearest major landmass. China calls it Nansha Islands.
The 2 Philippine vessels left the reef after the Chinese coast guard "warned" them, Xinhua added.
Philippine defense officials refused to comment on the report.
The Philippines has a stranded warship at the shoal, which is serving as a detachment for the military. China has been demanding that the Philippines retrieve the warship.
China claims practically all of the South China Sea, disregarding an agreement that countries are entitled to a 200 nautical mile exclusive economic zone. (READ: PH warns China on Ayungin: 'It is ours')
The Philippines has a pending arbitration case against China before the United Nations body International Tribunal for the Law of the Sea.
Rappler earlier reported that in a last-ditch attempt to derail the case, China offered the Philippines incentives such as the mutual withdrawal of ships from the disputed Panatag (Scarborough) Shoal. (READ: What's at stake in our case vs China)
Just recently, the Philippines protested China's use of water cannons against local fishermen in Panatag Shoal, which is located off the coast of Zambales in Luzon. – Carmela Fonbuena/Rappler.com