The DFA urges China 'to desist from any further interference' with the Philippines' efforts to resupply its troops in Ayungin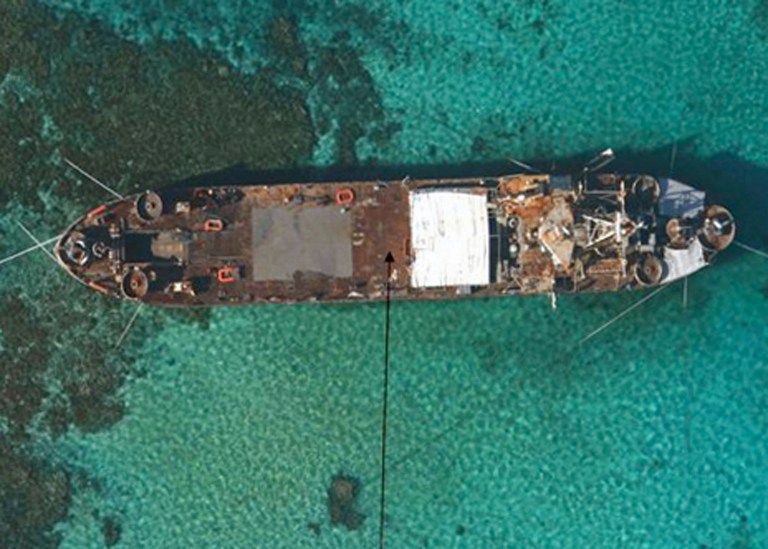 MANILA, Philippines – Philippines protested on Tuesday, March 11, China's latest moves in the disputed Ayungin Shoal after the rising superpower admitted it drove away two Filipino ships there.
In a text message, Department of Foreign Affairs (DFA) spokesman Raul Hernandez also confirmed the DFA summoned China's charge d'affaires on Tuesday afternoon, after China's foreign ministry said its coast guard "warned" the Philippine vessels.
On Monday, March 10, Chinese Foreign Ministry spokesman Qin Gang "said coast guard vessels, patrolling the Ren'ai Reef, identified two ships loaded with construction materials and carrying the flags of the Philippines, approaching the reef on Sunday," according to Chinese state media Xinhua.
A stranded Philippine warship remains in Ayungin, and serves as a military detachment. China has demanded that the Philippines withdraw the ship.
Hernandez said China used a megaphone, sirens, and even a digital signboard to drive civilian vessels away. 
In a statement, the DFA said it also "urged China to desist from any further interference with the efforts of the Philippines to undertake rotation and resupply operations at the Ayungin Shoal."
'Clear, urgent threat'
The DFA added: "Ayungin Shoal is part of the continental shelf of the Philippines and therefore, the Philippines is entitled to exercise sovereignty rights and jurisdiction in the area without the permission of other states. Furthermore, the civilian vessels contracted by the Philippine Navy were only conducting rotation of personnel and resupply operations.
"China's actions constitute a clear and urgent threat to the rights and interests of the Philippines under the 1982 United Nations Convention on the Law of the Sea," it said.
China's latest moves erupted less than a month after the Armed Forces of the Philippines revealed the so-called "water cannon incident" also involving the Chinese.
In this incident, China reportedly drove away Filipino fishermen from the disputed Panatag (Scarborough) Shoal using a water cannon. (READ: 'Even during storms, China harassed Filipinos')
The Philippine government's lawyer, Francis Jardeleza, said Manila is considering to use the so-called water cannon incident in its historic case against Beijing.
Manila is set to submit its memorial, or written pleading in the case, by March 30.
Sources told Rappler that China offered incentives to stop the Philippines from doing this. Other observers warned that if the Philippines does, China is ready with its "sticks." – Rappler.com