This is AI generated summarization, which may have errors. For context, always refer to the full article.
CHR submits a report to Malacañang recommending the graduation of Cadet Jeff Cudia because another cadet supported previous testimony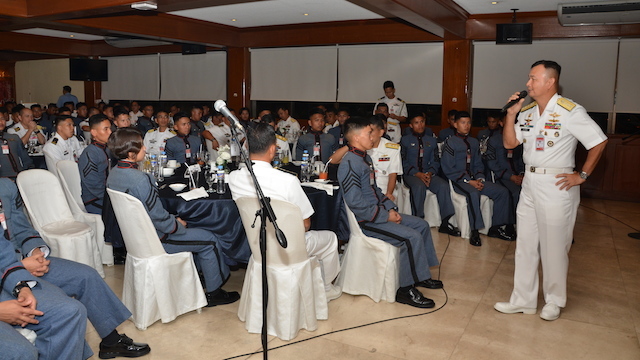 MANILA, Philippines – The plot thickens. Someone definitely lied.
Cadet First Class Lagura of the Philippine Military Academy (PMA) Honor Committee denied the new evidence presented by dismissed cadet Aldrin Jeff Cudia of a supposed mistrial committed by the Honor Committee when it declared him guilty of violating the Honor Code. (READ: Cadet forced to witness vs Cudia)
But another member of the same committee came forward to confirm how the 8-1 vote was changed to a 9-0 vote to declare Cudia guilty. 
Lagura, whose first name is not indicated in the document, executed his own affidavit to deny the earlier statement of Navy Commander Junjie Tabuada narrating how Lagura supposedly told him how he changed his vote, said Harold Kub-aron, chairman of the Baguio City office of the Commission on Human Rights (CHR).
Tabuada said in his affidavit that Lagura was in his office in the morning of either January 23 or 24, giving him an opportunity to ask about Cudia's case.
Tabuada's affidavit reads:
"When he was about to leave I called him, 'Lags, halika muna dito,' and he approached me and I let him sit down in the chair in front of my table. I told and asked him, 'Talagang nadali si Cudia ah…..ano ba ang nangyari? Mag-tagalog or mag-Bisaya ka?' He replied, 'Talagang NOT GUILTY ang vote ko sa kanya sir,' and I asked him, 'oh, bakit naging guilty di ba pag may isang nag NOT GUILTY, abswelto na?' He replied 'Chinamber ako sir, bale pinapa-justify kung bakit NOT GUILTY vote ko, at na-pressure din ako sir kaya binago ko, sir.' So, I told him, 'sayang sya, matalino at mabait pa naman' and he replied 'oo nga sir.' After that conversation, I let him go." (I asked him about what happened to Cudia. He said I voted not guilty, sir. I asked, but if you voted not guilty, shouldn't he be acquitted then? He replied: I was put in chambers and was asked to justify my not guilty vote. I was pressured to change my vote, which was what I did, sir.)
Lagura denied it happened. 
The Honor Committee is a powerful group inside the academy that is composed entirely of PMA students. They investigate and rule on reports of alleged violations of the PMA Honor Code which orders cadets not to lie, cheat, steal, or tolerate those among them who do. 
Cudia was declared guilty of lying about the reason he was late in a class. He was expected to "resign honorably" but in a move that surprised the academy and its alumni, Cudia decided to fight back.  (READ: Did Cudia lie? Document show details)
CHR recommends Cudia's graduation
Inspite of Lagura's denial, the CHR released a report on Friday recommending that Cudia be allowed to graduate with his classmates on Sunday, March 16.
This is because another cadet supported the claims of Tabuada and Cudia on the original 8-1 vote.
Kub-aron said the report has been sent to Malacañang.
"It is 1 versus 3. Who are we going to believe?" Kub-aron told Rappler. "Somebody is lying," he added.
Kub-aron said the Honor Committee also violated its own rules when it failed to record minutes of their confidential proceedings to show how the 8-1 vote was changed to 9-0.
Kub-aron said the CHR is hoping Cudia could still graduate with his classmates on Sunday, March 16. Malacañang said the President is personally reviewing Cudia's appeal.
Beyond Cudia, the CHR is also investigating the Honor System to see if reforms are needed in the system that molds future officers of the military. (WATCH: CHR probes cadet's dismissal, examines honor system) 
Read the complete CHR recommendation below:
– Rappler.com