Unlike Senator Santiago, the President's chief legal counsel says the bases access deal merely implements two treaties already concurred in by the Senate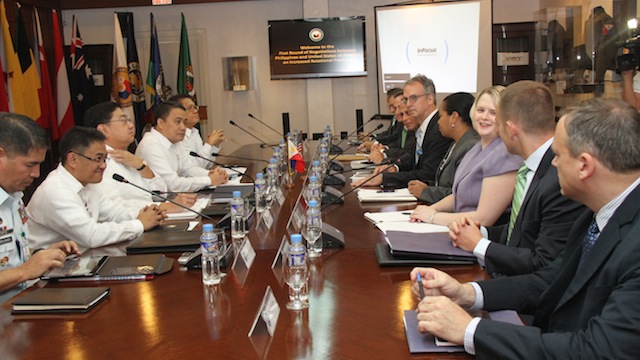 MANILA, Philippines – Despite the stand of Senator Miriam Defensor-Santiago, an expert on constitutional and international law, Malacañang on Saturday, March 15, said the Philippines' military deal with the United States does not need the approval of the Senate.
Santiago earlier said the agreement, which would allow the US military wider and prolonged access to Philippine bases, should be considered a treaty to avoid violating the 1987 Philippine Constitution.
The senator, who heads the chamber's foreign relations committee, added: "The Senate is going to screen [the deal] because we always fight in the Senate for our power to concur with any ratification made by the President. That will become a constitutional issue. That case will be automatically elevated to the Supreme Court."
Chief Presidential Legal Counsel Benjamin Caguioa disagreed. He said in a statement released through Communications Secretary Herminio Coloma Jr: "It is the Philippine panel's position that the agreement on enhanced defense cooperation merely implements the general provisions of the Mutual Defense Treaty and the Visiting Forces Agreement."
Caguioa added, "These two treaties have been concurred in by the Philippine Senate in separate instances. Thus there is no need for Senate ratification for this implementing Agreement on Enhanced Defense Cooperation."
In 1951, Manila signed a Mutual Defense Treaty with Washington, which states that the two countries shall separately and jointly develop capacity to resist an armed attack.
But Santiago said the bases access deal cannot be considered an implementing document of the treaty.
The Philippine panel asserted the agreement abides by the Constitution. The two sides will hold another round of talks in Manila on March 25 ahead of the visit of US President Barack Obama in late April. – Rappler.com