The Oriental Mindoro governor says he only met the businessman charged for a housing scam when his project broke ground in his province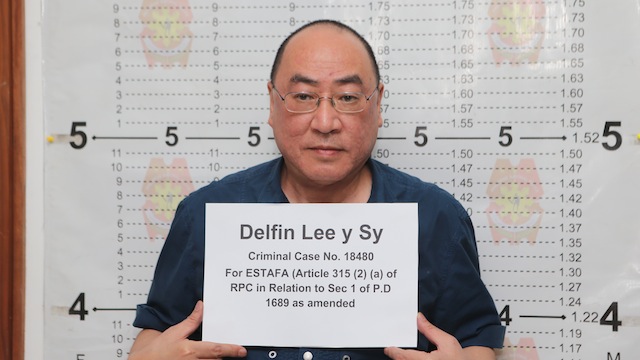 MANILA, Philippines – The politician tagged by Vice President Jejomar Binay as one of the "influential people" who tried to block businessman Delfin Lee's arrest admitted he met "once" the man wanted by police for a multi-billion-peso housing scam. 
Still, Oriental Mindoro Governor Alfonso Umali, a party mate of the President, insisted he does not know the Globe Asiatique's Lee personally.
Umali said on Tuesday, March 18, that he met Lee when his company's development project, Xevera, broke ground in Oriental Mindoro. 
"He had investments before so I was invited to a groundbreaking…but after that, that was it. I don't know him," Umali said at the League of Municipalities' general assembly.
Xevera is also the name of Globe Asiatique's project in Pampanga, for which he is being sued by government. Lee is facing syndicated estafa charges for siphoning off P6.6-billion in housing loans from the government using ghost borrowers. (READ: GA homeowners: Lee must suffer like we do)
Lee was arrested by a Philippine National Police (PNP) task force on March 6 after almost two years in hiding, but Vice President Binay hinted that "influential people" tried to intervene for the businessman. Umali later admitted calling PNP chief Alan Purisima about Lee's arrest. (READ:Binay: Powerful people trying to save Lee).
The Vice President, who also chairs the Housing and Urban Development Coordinating Council, said in an interview afterwards that there was more than one influential person trying to influence the outcome of Lee's case. (READ: Binay: Umali not only one 'influencing' Lee case)
On Tuesday, Umali again insisted he only called Purisima upon the request of Lee's lawyer Gilbert Repizo. Umali admitted he knew Repizo as they both hail from Oriental Mindoro. Repizo is a former councilor of Calapan City.
"I have nothing to do with it. It's coming out I was in the meeting, I called Crame, I was yelling, I even went there…none of that is true. The only thing that's true is I called, admittedly," he said.
Umali explained he only asked Purisima if there was an order quashing the arrest.
"He [Purisima] told me, 'It still needs a release order.' So I called the lawyer and I told him. That was it," he explained.
Umali also admitted he is "very good friends with the Chief PNP" but insisted "there was no influence." He said he admitted calling Purisima because "there was nothing wrong with what I did." Purisima himself said Umali's call was not unusual.
The governor is a staunch ally of President Benigno Aquino III, and is the national president of the League of Provinces of the Philippines (LPP). He said Aquino readily accepted his explanation.
Pork accusations
Umaliname has also been tagged as one of the lawmakers who funneled their Priority Development Assistance Fund (PDAF) or pork barrel to fake non-governmental organizations (NGOs) through the National Agri-business Corporation (Nabcor), a government-owned corporation.
The former congressman admitted funding Nabcor programs but said he knew nothing about Nabcor's irregularities. Nabcor has since been abolished by Aquino.
"During that time, those were really the agencies we used for our PDAF. No one knew if it was legitimate or not," Umali said.
He added: "The NGOs could only receive from agencies. So our assumption was, if they accepted it, it's an okay agency. And the NGOs I used were ok, it wasn't related to Napoles."
Umali was referring to alleged pork barrel scam mastermind Janet Lim-Napoles, who is facing plunder charges for allegedly creating bogus NGOs and working with lawmakers and other government officials to funnel funds to her NGOs in exchange for hefty kickbacks.
Umali is said to have coursed P4.8 million through Nabcor to Kaagapay Magpakailanman Foundation. But the lawmaker insisted his funneling of the money was legitimate. "All mine were liquidated. We have liquidation documents so I'm not worried about that," he said.
Umali brushed off the accusations against him, saying it is just because of the upcoming elections that his name is being linked to controversies. He admitted he would like to run again for governor come 2016.
"I'm trending," he joked. – Rappler.com