This is AI generated summarization, which may have errors. For context, always refer to the full article.
The Supreme Court is giving the Ombudsman, the NBI, and whistleblowers' counsel Levito Baligod 10 days to file their comment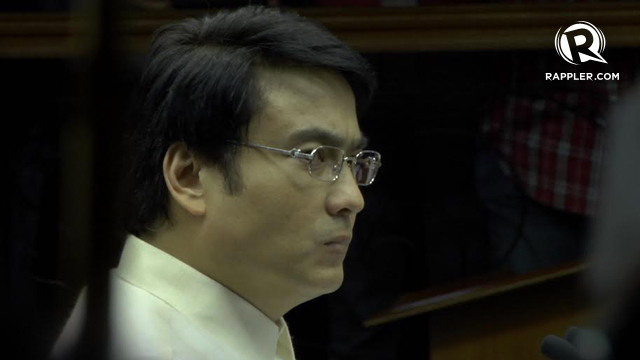 MANILA, Philippines – Senator Ramon Revilla Jr's quest to stop the probe into his involvement in the multi-billion-peso pork barrel scam has reached the Supreme Court (SC), which is now asking government representatives to respond to the plea.
The SC on Thursday, March 20, ordered the Office of the Ombudsman special panel of investigators and its Field Investigation Office, the National Bureau of Investigation (NBI), and pork barrel scam whistleblowers' counsel Levito Baligod to issue a reply-comment on Revilla's petition to suspend the preliminary investigation (PI) into the plunder complaint against him.
They are given 10 days to file their comment.
Senators Revilla, Juan Ponce Enrile, Jose "Jinggoy" Estrada, and at least 35 others are respondents in a plunder complaint filed by the NBI with the Ombudsman.
Revilla earlier asked the Ombudsman to stop the investigation, but his motion was denied on January 28, saying "no prejudicial question exists to warrant the suspension of the preliminary investigation."
Revilla is being investigated for allegedly receiving kickbacks from the illegal diversion of his Priority Development Assistance Fund (PDAF) to bogus projects of fake non-governmental organizations (NGOs).
The scam was allegedly masterminded by Janet Napoles, whose NGOs served in paper as fund beneficiaries and project implementors. It was revealed by principal whistleblower Benhur Luy, who was rescued by Philippine authorities in March 2013. He was allegedly illegally detained by Napoles and her brother Reynald Lim.
"After deliberating on the petition for certiorari and prohibition (with prayer for temporary restraining order and/or writ of preliminary injunction) assailing the Joint Orders dated January 28, 2014 and March 3, 2014 of the Office of the Ombudsman in OMB-C-C-13-0316 and OMB-C-C-13-0395, the Court, without necessarily giving due course thereto, resolves to require respondents to COMMENT thereon (not to file a motion to dismiss) without ten (10) days from notice," the order read.
The High Court also required Revilla's legal counsel to submit clearly legible duplicate originals or certified true copies of the assailed joint orders.
In a recent privilege speech, Revilla lambasted President Benigno Aquino III's government for using the plunder accusations to hurt his political future. Revilla is being groomed by his party, the Lakas-CMD, as its standard bearer in the 2016 presidential polls. – Rappler.com