The justice secretary says the immunity under Jasig won't cover 'matters outside or beyond the scope of the peace negotiation process'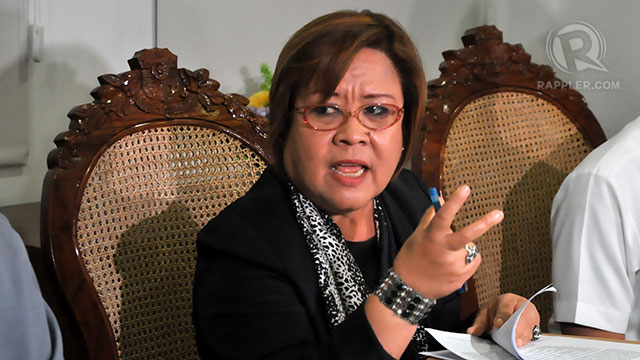 MANILA, Philippines – Department of Justice (DOJ) Secretary Leila de Lima defended on Monday, March 24, the arrest of Communist Party of the Philippines (CPP) top leaders Benito Tiamzon and wife Wilma as legal, saying there were at least two standing arrest warrants against them.
"Existing warrants of arrest have not been nullified, so it's presumed to be valid and regular and has been issued in the ordinary course of things. It went through the right process, so pwede i-implement (it can be implemented)," she said. (READ: Tiamzons leave 'irregular' inquest)
De Lima cited two arrest warrants she has confirmed – one in relation to the unearthed mass grave in Inopacan, Leyte and another involving a separate case in Northern Samar.
The Philippine National Police (PNP)-Criminal Investigation and Detection Group will be furnishing the DOJ with a complete list of standing arrest warrants against Tiamzon, she said.
At large for decades, Tiamzon is the alleged chairman of the CPP-New People's Army (NPA). His wife, Wilma, is said to be the CPP-NPA secretary-general.
The two were among those arrested by joint forces of the PNP and the Armed Forces of the Philippines Saturday afternoon, March 22, in Barangay Zaragosa, Aloguinsan town in Cebu.
The 40-year-old rebel army of the CPP is Asia's longest-running insurgency. President Benigno Aquino III was referring to the husband-and-wife tandem when he announced the impending arrest of high-profile fugitives he called "big fish."
He also said on Monday, March 24, that their arrest was a serious blow to the rebel movement. (READ: Aquino: Tiamzons' arrest a serious blow to rebels)
No immunity
De Lima also added that the CPP leaders are not covered by any immunity from arrest under the Joint Agreement on Safety and Immunity Guarantees (Jasig) – an opinion earlier articulated by Alex Padilla, chief government negotiator with the CPP's political wing, the National Democratic Front of the Philippines (NDFP). (READ: CPP chief, wife not covered by 'immunity')
The Jasig, said De Lima, cannot be invoked, given the absence of an ongoing peace negotiation with the communist group.
De Lima said the agreement can only be "operational" with peace talks ongoing, but the CPP in December 2013 issued a statement saying it is leaving the negotiating table.
"Even then, assuming arguendo, that they are indeed Jasig-covered, hindi nila pwedeng i-invoke yung immunities nila under Jasig dahil unang-una ang Jasig ang mga immunities na yun… it presupposes existence of a peace negotiation, and alam naman natin na hindi pa nag-resume yung peace negotiations," she explained.
(Even then, assuming arguendo, that they are indeed Jasig-covered, they cannot invoke their immunities under Jasig, because first of all those immunities… it presupposes existence of a peace negotiation, and we all know that peace negotiations have yet to resume.)
The justice secretary added that the immunity under Jasig won't cover "matters outside or beyond the scope of the peace negotiation process."
"…so kapag may criminal case ka at lalo nang merong warrants of arrest (so if you have a criminal case and especially if there are warrants of arrest), I don't think you're being Jasig-covered can shield you from the oeprations of the criminal justice system. It cannot, it was not meant, the Jasig mechanism, I suppose, is not meant to undermine the criminal justice system," she said. – Rappler.com