'We know that they assisted the Philippine Navy in being able to evade the Chinese ships,' says Philippine Ambassador to Us Jose Cuisia Jr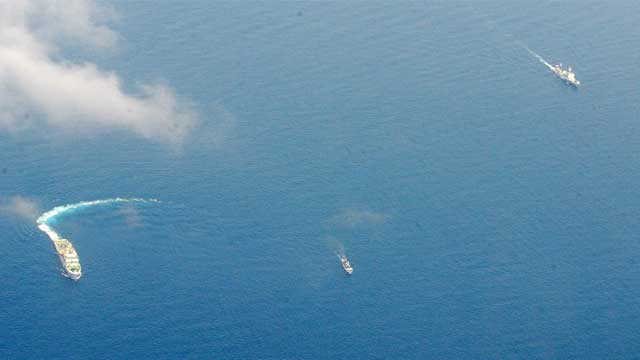 MANILA, Philippines – The US assisted the Philippine Navy in the tense mission to rotate troops trapped for 5 months in the disputed Ayungin Shoal following China's "blockade," Philippine Ambassador to US Jose Cuisia Jr. said Friday, April 11. (READ: China harasses ship before pleading day and Ayungin trip 'betrays' PH intent)
"I don't specifically know the details and they will not discuss that. When you tell them, then China will know what to look for the next time around," Cuisia told reporters in Manila.
"We know that they [US] assisted the Philippine Navy in being able to evade the Chinese ships…. I think it was the strategy that was discussed," Cuisia added.
Cuisia said this was "normal" and "will continue" as part of the "continuing military security alliance" with the US, which has been helping the Philippines in aerial surveillance. The US is a treaty ally of the Philippines under the Mutual Defense Treaty and Visiting Forces Agreement. 
In a tense incident in the high seas, 2 Chinese ships harassed on March 29 a Philippine ship carrying journalists and troops from the Philippine Marines who will replace those who have been trapped there for 5 months.

A previous attempt to rotate the troops was blocked by China, prompting the military to airdrop supplies. (READ: PH sending ships to Ayungin despite blockade)
Using a telephoto lens, a photographer who joined the mission to Ayungin Shoal spotted a plane marked "US Navy" directly above the civilian ship while they were on their way to the shoal. It was first spotted when one of the 2 ships stopped at sea because its propeller shaft was broken. The journalist and crew moved to the other ship.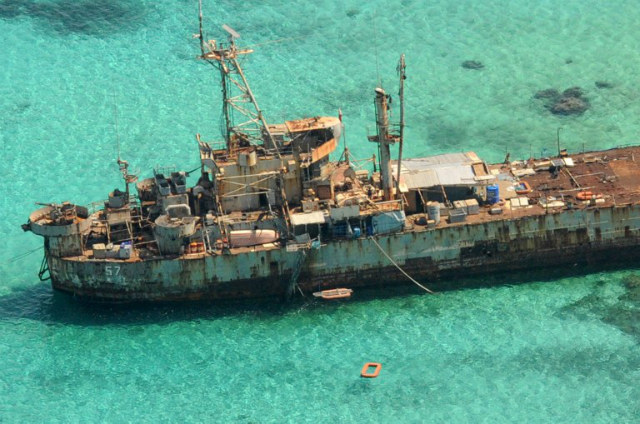 As they approached Ayungin Shoal, they were almost blocked by Chinese coast guard ships. The Philippine ship successfully evaded them. The tension lasted 2 hours with the Chinese ship crossing the bow of the Philippine ship at least once. 
It took the Philippine ship nearly 40 hours to get there from the coast of Palawan.
Once the ship reached the marooned BRP Sierra Madre that has served as a naval detachment of the Marines, reporters spotted several other "unidentified" planes.
"I can feel their (US) presence. Paikot-ikot," a reporter who joined the mission told Rappler. This gave them a sense of security, the reporter said, especially after the incident with the Chinese coast guard ships and the presence of Chinese helicopters.
Rappler sought the comment of military spokesperson Major General Domingo Tutaan Jr but he said he hasn't heard Cuisia's statement. The Philippine Navy has not responded to our inquiry. 
A military-to-military agreement titled Enhanced Defense Cooperation is also being finalized between the 2 countries to cooperate on maritime security, among others. "This agreement is different because it will allow the US to put up facilities that are both beneficial to the US and the Philippines," he said. (READ: PH, US draft military deal for Aquino review)
The Philippines welcomes statements from US military and political officials denouncing China's agressiveness in the South China Sea and supporting the Philippines' move to bring the dispute to the United Nations. (READ: 'No such thing as 9-dash-line' – US envoy and Expect stronger US message vs China aggression)
US defense chief Chuck Hagel also recently emphasized Washington's military alliance with Japan and other Asian partners, saying: "Our commitment to allies in the region is unwavering." (READ: Pentagon chief's visit exposes US-China divide) – Rappler.com