(5th UPDATE) Health Secretary Ona renews calls for the remaining passengers of Etihad Airways flight EY 0424 last April 15 to submit themselves to free 'nose-throat-swab test
MANILA, Philippines (5th UPDATE) – Better safe than sorry.
The overseas Filipino worker (OFW) whom the Department of Health (DOH) earlier identified as the first laboratory-confirmed case of the MERS Coronavirus infection in the country already tested negative – prompting Health Secretary Enrique Ona to say the Philippines is MERS-free for now. 
However, the health department still wants to have every passenger of Etihad Airways flight EY 0424 – the OFW's flight on April 15 – tested. (READ: OFW's co-passengers asked to check for MERS)
MERS or the Middle East Respiratory Syndrome Coronavirus is a highly fatal, influenza-like illness characterized by fever, cough, and often with diarrhea.
As of 10 pm Wednesday, April 23, the Deartment of Health (DOH) said 6 passengers have yet to get in touch with the department for their free "nose-throat-swab" examination. 
325 or almost 80% of 414 passengers who were on the April 15 flight from Abu Dhabi were already contacted by the DOH. Of these, 221 tested negative, Malacañang also said on Wednesday.
Ona expects all passengers to test negative. 
"I expect all of them to turn negative because the patient himself and the family who accompanied him – there are 5 of them – as well as those who we were able to contact were all negative. However, we should not lower our determination to get in touch with the rest of the passengers," Ona earlier said in an interview with ANC's Headstart.
DOH appealed again to the rest of the passengers to cooperate and get in touch with department immediately. 
Below are the names of the passengers:
DOH Advisory
List of passengers that cannot be contacted

| | |
| --- | --- |
| ABELLANA | Christopher |
| DAYRIT | Dianah |
| NAVARRO | Maritess |
| RIVERA | Aileen |
| ROBANTE | Mylene |
| SOROLLA | Liystely |

The World Health Organization reported Wednesday a total of 253 laboratory-confirmed cases of MERS Coronavirus infection since September 2012, with 93 deaths worldwide.
A 41-year-old Filipina nurse died of MERS on August 29, 2013, while another OFW reportedly died of the virus last April 10.
DOH said there is limited data on how MERS is transmitted, "possibly through direct contact of household members and health care providers exposed to confirmed cases."
There are no specific treatments yet for the illness, but the public is advised to observe proper cough manners and frequent handwashing. (READ: PH boosts MERS monitoring after UAE nurse scare)
Any person with travel history to the Middle East and with severe respiratory illness are also advised to be tested for the MERS Coronavirus, but there are no travel restrictions yet to and from Middle East countries.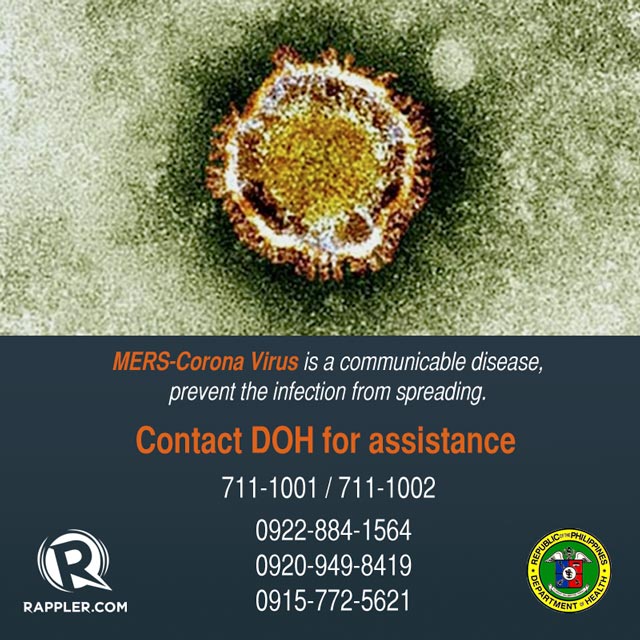 – Rappler.com