This is AI generated summarization, which may have errors. For context, always refer to the full article.
Benhur Luy presents the affidavit of Mary Arlene Baltazar who says she was asked by Napoles to find documents that can be used to file a complaint against Luy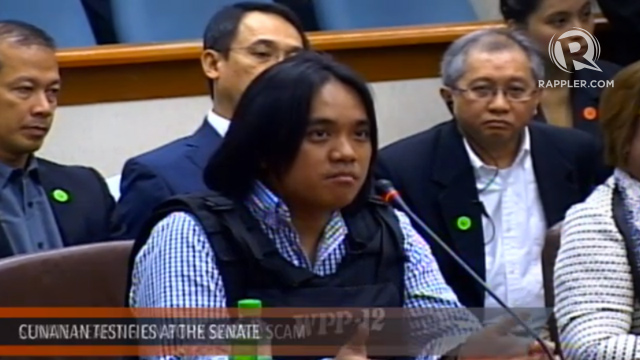 MANILA, Philippines – (UPDATED) The Department of Justice (DOJ) is seeking the dismissal of the qualified theft case against pork barrel scam whistleblower Benhur Luy, saying it was a "deliberate bastardization of the law" by alleged scam mastermind Janet Lim Napoles.
"It appears that complainant Napoles merely instituted the instant case as a leverage against respondent Luy, as the latter filed his own complaint for illegal detention against her," a DOJ resolution read.
The DOJ filed on Monday, May 5, a motion to withdraw information seeking the dismissal by Pasig Regional Trial Court (RTC) Judge Maria Gracia Cadiz-Casaclang of Luy's case pending before the trial court. The motion was signed by Assistant Prosecutor Mark Roland Estepa.
Luy's scheduled arraignment before the Pasig RTC on Thursday morning, May 8, was postponed to August 20 as a result of the DOJ's motion. The case stems from Napoles' accusation that Luy took the P300,000 she asked to be deposited in her bank account.
The justice department's move to withdraw Luy's case was based on its resolution dated April 28 reversing the finding of probable cause against Luy.
DOJ resolution
In its April 28 resolution, the justice department set aside the Pasig City prosecutor's go signal to file Luy's qualified theft case before the court. The document – also signed by Estepa and approved by Prosecutor General Claro Arellano – granted Luy's motion for reconsideration (MR).
In his supplemental MR filed on April 16 before the DOJ, Luy presented the affidavit of one Mary Arlene Baltazar who said she was asked by Napoles to find documents that can be used to file a complaint against Luy.
Baltazar said Napoles' order came after Luy was rescued by agents of the National Bureau of Investigation (NBI). Luy said he was unable to present this evidence in his previous statements, as Balatazar was still Napoles' employee back then.
(Read Benhur Luy's supplemental MR before the DOJ below.)
In resolving Luy's MR, Assistant Prosecutor Estepa said he "can never countenance such blatant and deliberate bastardization of the law" by Napoles.
"The undersigned finds it appalling that complainant Napoles as assisted by her counsel, could manipulate legal processes in order to intimidate and/or harass respondent Luy, and in the process make him answer for a non-bailable offense," the DOJ resolution read.
Napoles as state witness
The pork barrel scam, a scheme diverting lawmakers' Priority Development Assistance Fund (PDAF) to bogus projects of fake non-governmental organizations associated with Napoles, was revealed by Luy.
Luy was allegedly illegally detained by Napoles and her brother Reynald Lim, until NBI authorities rescued the whistleblower.
Now the principal state witness in the PDAF scam cases, Luy is under the custody of the DOJ Witness Protection Program. As a state witness, he enjoys immunity from criminal prosecution over the PDAF scam.
(Read DOJ's full Motion to Withdraw Information below.)
DOJ Motion to Withdraw Information
– Rappler.com