China, for its part, says it can do anything it wants within its 'territory'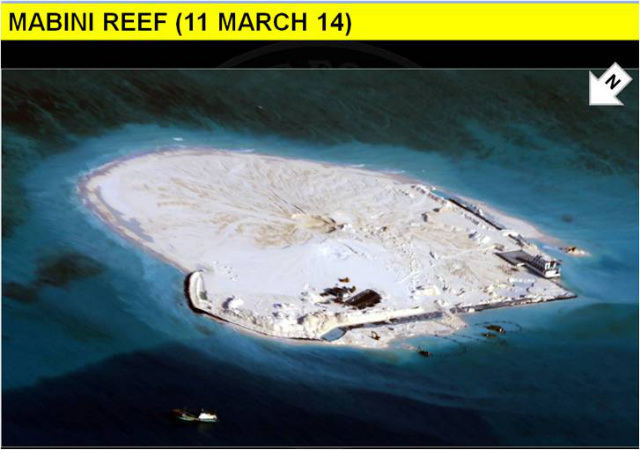 MANILA, Philippines – While the Philippines suspects China of building a military base in the West Philippine Sea (South China Sea), the United States warned that "militarization" in the disputed waters could raise tensions in the region.
"Major upgrades or the militarization of disputed land features in the South China Sea by any claimant has the potential to raise tensions," US State Department deputy spokesperson Marie Harf said in a media briefing in Washington DC on Thursday, May 15. (READ: China paper backs 'non-peaceful' steps against Vietnam)
Harf's statement came as Philippine Defense Secretary Voltaire Gazmin expressed  near certainty that China has reclaimed land to build a military base on Mabini (Johnson) Reef, which is part of the Spratly Islands in the disputed West Philippine Sea.
During her media briefing, Harf also stressed the need to "fully and effectively implement" the Declaration on the Conduct of Parties in the South China Sea (DOC), a key regional declaration signed by the Philippines and China, as well as other claimant countries, in 2002.
The DOC remains a non-binding instrument because of China's insistence that territorial disputes be settled on a bilateral, and not multilateral, level.
In this case, Harf said the DOC is important "especially with regard to exercising self-restraint and the conduct of activities that would complicate or escalate disputes."
The DOC states: "The parties undertake to exercise self-restraint in the conduct of activities that would complicate or escalate disputes and affect peace and stability including, among others, refraining from action of inhabiting on the presently uninhabited islands, reefs, shoals, cays, and other features, and to handle their differences in a constructive manner." 
(Watch the video below)
US to claimants: Be transparent
Aside from stressing the DOC, Harf added that recent incidents "highlight the need for claimants to be transparent about their respective activities in disputed areas."
Chinese Foreign Ministry spokesperson Hua Chunying, on the other hand, said China can do anything within its "territory."
"China has indisputable sovereignty over Nansha (Spratly) Islands including Chigua (Mabini) Reef and the contiguous waters. Whatever construction China carries out in the Chigua Reef is completely within China's sovereignty," Hua said in a media briefing Thursday. 
The Philippines' Department of Foreign Affairs, for its part, released photos to show such "destabilizing" moves by China.
The Philippines had also filed a protest that China rejected.
This latest source of tension erupted more than a month after the Philippines, in an unprecedented move, filed a 4,000-page pleading against China.
The Philippines submitted this to a United Nations-backed arbitral tribunal at the Permanent Court of Arbitration, which is hearing Manila's historic case against Beijing. The tribunal's ruling is expected by 2015. – Rappler.com