This is AI generated summarization, which may have errors. For context, always refer to the full article.
In 2 affidavits, the alleged pork barrel scam mastermind asks for forgiveness, offers to be state witness, and talks about 'tuwid na daan'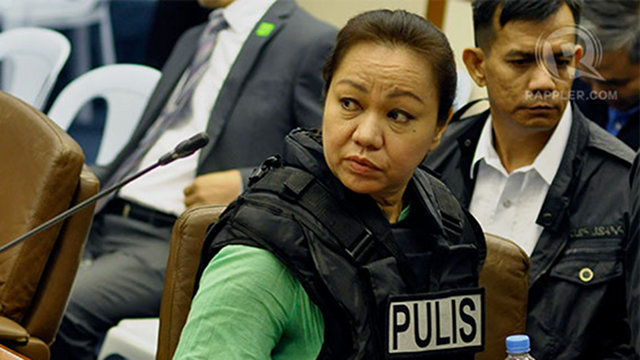 MANILA, Philippines – "I am the victim of a wrong system in society that I thought was normal and legal because this became the practice for a long time."
In a strange twist in the long-running pork barrel scam scandal, alleged mastermind Janet Lim Napoles appealed to the Ombudsman, the justice department and an angry public not to blame her for devising an intricate corruption scheme involving top levels of the legislative and executive branches of government. (READ: Napoles details 'transactions' with 20 senators)
In two Napoles affidavits that Justice Secretary Leila de Lima submitted to the Senate on Monday, May 26, the woman at the center of the country's biggest corruption scandal in recent history sought to downplay her liability in the pork barrel and Malampaya fund scams by saying she is not an elected official, and only reached high school. (READ: Madame Jenny Napoles: Woman in the eye of the storm)
"Nais ko pong ipaalam sa lahat ang aking pagsisisi at paghingi ng tawad – una sa Diyos at pangalawa sa sambayanang Pilipino na naapektuhan nito. Hindi ko rin akalain na ako ay halos itakwil o itatwa ng mga matataas na opisyal ng pamahalaan na gumagamit sa akin at ang ilan sa kanila ay ipinagkaila na kilala ako," Napoles said.
(I want everyone to know I regret and ask forgiveness – first from the Lord and second from the Filipino nation affected by this scam. I did not expect that those in high offices in government will betray me after using me, and some of them deny knowing me.)
Napoles said she offered her knowledge of the scams in a bid to get immunity from prosecution for her and her children, Jo Christine and James Christopher Napoles. The alleged mastermind also wants to be admitted to the Witness Protection Program. (READ: How credible is Janet Napoles?)
She faces charges for the non-bailable crime of plunder for allegedly conniving with lawmakers and executive officials to funnel pork barrel funds to her fake non-governmental organizations, and splitting millions of pesos in kickbacks with them. Her children are her co-accused but they only face graft charges.
Jailed in September 2013 at Fort Sto Domingo in Laguna on separate charges she detained her longtime aide and now principal whistleblower Benhur Luy, Napoles is recovering from surgery at the Ospital ng Makati. It was in the hospital where she met with Justice Secretary Leila de Lima and a battery of lawyers who assisted her in finishing the affidavits. (READ: Napoles can be discharged by May 29)
After testifying in the Senate in November 2013 that she knew nothing about the scam, Napoles now said she was just "at a loss" then because she had no lawyer and "various forces" prevented her from talking to De Lima.
Napoles said she is now willing to tell the "whole and clear truth" about the scam. Here are her statements about her involvement:
1. 'I am not the mastermind of the pork barrel scam.'
While the accused lawmakers blamed implementing agencies for the scam, Napoles also sought to pass the buck.
"It was the lawmakers who controlled their funds and the implementing agencies that processed the papers and inspected [projects] before paying for all the transactions," Napoles said. "I am not capable to do such a complicated scheme to be the mastermind of all these."
"I also did not have the capability to dictate, order, and control the lawmakers and the officials of the implementing agencies, and I had no involvement in releasing the funds of the [Department of Budget and Management]."
Napoles said she only followed the rules of the government agencies. She added that she could not be the scam mastermind because the pork barrel system has been long-running, starting from the 1990s when it was called Countrywide Development Fund, until it was called Priority Development Assistance Fund in the 2000s.
She also denied that all of her deliveries were ghost projects.
In previous interviews, lawmakers rejected Napoles' argument. Senator Sergio "Serge" Osmeña III compared it to a murderer blaming Cain and Abel for inventing his or her crime.
Luy also told the Senate last year, "There is no other mastermind. She is the mastermind because she was my boss."
2. 'I am not the most guilty.'
In her bid for immunity, Napoles said the lawmakers and their agents had the biggest responsibility for the scam.
"The lawmakers themselves or their agents approached me about using their funds for projects. They were also the ones saying how much their rebate will be, and if we don't agree, there are many others they can pass on the funds and project to besides me."
Napoles added that she is neither an elected nor an appointed official "who has a high position and responsibility to take care of public coffers."
Senators have also disagreed with this statement, calling Napoles the "architect and engineer" and "brains" behind the scam.
3. 'Those involved are using me as scapegoat.'
Napoles said it was painful for her to be accused of being "the pork barrel queen and mastermind," "most guilty," "center of controversy," and architect of the PDAF scam." She said the allegations were only meant to "confuse" the public and divert anger to her.
"They just want to end the issue with me and make me a scapegoat of those involved. This is not the truth because my role in this system is just small. The pork barrel scam will continue if the truth is not revealed, and the wrong is not corrected. And I wish to help to fulfill this."
4. 'I didn't know the scam was illegal.'
Napoles said she had no intention of violating the law. "I thought all that I did was in accordance with the law because the people I was talking to were lawmakers, their representatives and high officials of our country and many are doing this kind of transaction."
She pointed out that the Commission on Audit (COA) report on the pork barrel from 2007 to 2009 identified 82 questionable NGOs. "Only 8 were connected to me. More than 70 NGOs mentioned had no relation to me." (READ: Rival NGOs beat Napoles in House pork barrel)
Napoles said ignorance of the law caused her to be a bridge between lawmakers and government officials on the use of pork barrel funds.
Senators again scoffed at this statement, saying criminals can simply say they did not know they violated the law.
5. 'I want to be part of Tuwid na Daan.'
Napoles said that as proof of her "truthful and wholehearted regret," she is ready to testify in any investigation, and willing to name all the officials involved.
The woman who allegedly earned so much money from the scam that she had difficulty fitting bags of cash in her bath tub and bed even rode on the anti-corruption mantra of the Aquino administration. (READ: Napoles daughter owns P80-M LA property)
"Sa wari ko, ito na ang tamang panahon para baguhin ang maling kalakaran tungo sa 'Tuwid na Daan.'" (I think this is the right time to change the wrong practice towards the straight and narrow path.)

Read Napoles' May 12, 2014 affidavit covering the first batch of pork barrel scam here: 
Read Napoles' May 26, 2014 extended affidavit naming more officials here:  – Rappler.com