The Philippines keeps close watch on the 'possible recruitment by ISIS and other foreign extremist groups' in the Southeast Asian country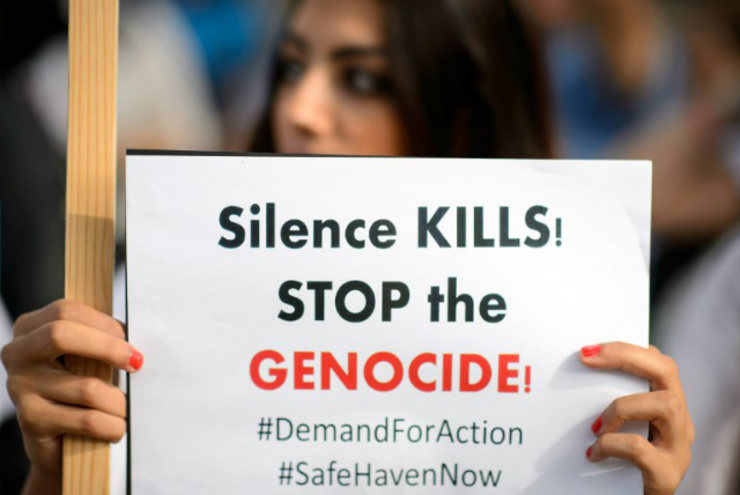 MANILA, Philippines – The Philippines condemned the extremist Islamic State (ISIS) on Wednesday, September 17, and vowed to help "thwart" it after two Filipinos reportedly died fighting for ISIS in Syria.
"We reiterate that the Philippines condemns the war crimes and crimes against humanity being perpetrated by ISIS. As a responsible member of the international community, the Philippines will do its part in global efforts to thwart ISIS," the Philippines' Department of Foreign Affairs (DFA) said.
The DFA released the statement after Reuters said on Saturday, September 13, that two Filipinos "were reported killed fighting" for ISIS. Reuters cited documents and an intelligence official who refused to be named.
The DFA said the reported deaths of two Filipinos in Syria "remain unconfirmed," but the Philippines knows "the potential threat to national security that could be posed by Philippine nationals joining extremist groups overseas."
"Such dangers include the propagation of extremist ideas and terrorism by Filipinos affiliated with such groups upon their return home," it said.
The DFA also said Philippine security and intelligence officials have begun to monitor the "possible recruitment by ISIS and other foreign extremist groups in the Philippines." It deferred to them on the matter.
Filipinos supporting ISIS
The DFA statement came after Rappler reported in June that ISIS is boosting its membership in Southeast Asia, including the Philippines.
Intelligence officials said at least one Filipino has gone to fight the jihad in Syria, while rebels from the Abu Sayyaf and Bangsamoro Islamic Freedom Fighters (BIFF) claimed having pledged their allegiance to ISIS. (READ: Senior Abu Sayyaf leader swears oath to ISIS)
The Abu Sayyaf is a small gang of self-styled Islamic militants blamed for the country's worst attacks, including bombings, beheadings, and kidnappings
The BIFF is a group that broke away from the Moro Islamic Liberation Front (MILF), the rebel group that forged a peace agreement with the Philippine government. The BIFF has rejected the agreement that aims to create a new autonomous government in Mindanao in southern Philippines.
The BIFF has instead pursued the decades-old armed campaign to establish an Islamic state in the southern Philippines which was begun by the MILF.
Cotabato Archbishop Orlando Cardinal Quevedo, Mindanao's highest ranking Catholic prelate, told Rappler that the threat from ISIS shows the need to "successfully" conclude the Mindanao peace process.
Quevedo also urged the Philippine government to extend "material assistance" to the Christians and other minorities persecuted by ISIS in Iraq. The Philippines also needs to show "active solidarity with world governments that have condemned the Iraq situation," he said. – with reports from Agence France-Presse/Rappler.com