(2nd UPDATE) Vice President Jejomar Binay's 21-minute speech fails to impress his critics, who again challenged him to attend the Senate hearing on the alleged overpriced Makati building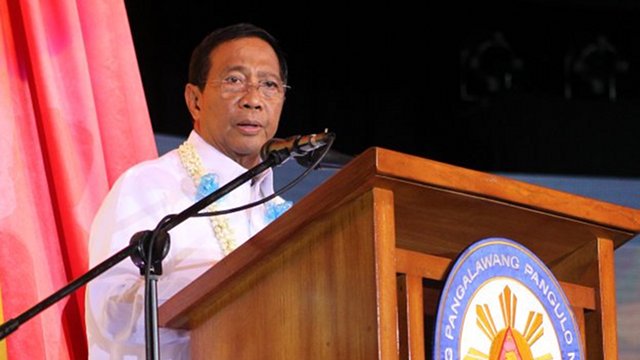 MANILA, Philippines (2nd UPDATE) – Vice President Jejomar Binay said on Thursday, September 18, that all the allegations hurled against him by his former allies in Makati City are recycled "lies" that may be acceptable to the "circus-like" Senate but will not stand up in court.
(READ: FULL TEXT: Binay on 'empty' claims of Makati corruption)
"Wala sa ipinangangalandakan nilang testimonya ang tatayo sa isang hukuman ng batas (Their testimony will not stand up in court)," Binay said in a 21-minute address Thursday afternoon, September 18, delivered at a conference room at the Philippine International Convention Center (PICC) packed by his family members and supporters. 
"At dahil hindi tatayo sa hukuman ng batas, ipinalalabas na lang nila sa mala-circus na padinig sa Senado (And because this would not stand up in court, they just revealed it in the circus-like Senate hearing)," he added.
The Vice President sought to refute the corruption allegations against him point-by-point and said he would not back down from any fight. But he left the PICC after the speech and let his spokespersons respond to lingering questions.
'Not overpriced'
First, he maintained that the Makati City Hall Building 2 is "not overpriced." He argued that it is incorrect to use the estimates of the National Statistics Office (NSO) on the cost of construction per square meter.
Using 2007 and 2012 NSO data wherein costs were at P8,013 ($183*) and P9,527 ($218) per square meter respectively, Binay's critics said the building was overpriced by around P2.4 billion ($55 million).
"Ang NSO mismo ang nagsabi na may limitasyon at hindi tamang batayan ang kanilang estima. Ibig sabihin ito ay hindi ebidensiya (The NSO itself said that it is right to use their estimate as a basis. This means it is not evience)," Binay said.
Binay said it should be compared instead to other government buildings such as the Iloilo International Convention Center, a known pet project of administration ally Senate President Franklin Drilon.
Drilon earlier said the Iloilo Convention Center, built as part of the Philippine hosting of the Asia-Pacific Economic Cooperation (APEC) meeting in 2015, cannot be compared to the Makati building.
'No bid rigging, kickbacks'
Second, Binay said allegations that the bidding was rigged to favor Hilmarc's Construction Company were mere "hearsay." 
Former Makati bids and awards committee vice-chair Mario Hechanova hhad testified before senators that it is "usual practice" to fix bids in Makati City. The Senate probe also revealed that while the project was divided into 5 phases, Hilmarc's turned out to be the winning bidder in all 5 cases. 
Binay said: "Hubad na salita lamang dahil walang dokumentong ipinakita o pinanghahawakan (These are just mere words without any supporting document)."
Third, he denied that he earned kickbacks from city projects that were awarded to his preferred contractors. The admission of former Makati vice mayor Ernesto Mercado that he earned kickbacks doesn't mean he, as Makati mayor, also earned money from the projects, he said.
And fourth, he denied stories about supposed bags of cash used to deliver his kickbacks, allegedly 13% of the total project cost. "Gaya rin ng ibang sinasabi sa Senado, walang ring ipinakitang ebidensiya (Like many things we've heard in the Senate, there is no evidence to support the claim)," Binay said. 
Binay claimed it took 5 years to construct the building because the city council had to look for funding. He claimed that the Commission on Audit regularly checked that the process was above board.
"Sa loob ng limang taon, sampung audit ang ginawa nila at wala silang nakita na anumang anomalya (Over 5 years, they conducted 10 audits and they did not see any anomaly)," Binay said.
The Vice President also highlighted the statement of Hilmarc's that he never asked for a commission. "Kung mayroon mang komisyon na sinasabing kinuha nang vice mayor, ito ay maliwanag na para sa kaniya lamang (If the Vice Mayor got any commission, it is clear that this is only for him)," Binay said.
Chiding senators
Binay also chided senators, obviously referring to Senators Alan Peter Cayetano and Antonio Trillanes IV who are leading the Senate probe. 
"Ang ilang senador, konting basa ng construction handbook, kaunting kausap sa mga binayarang appraisers daw, at isang pasyal lang sa building may conclusion agad na overpricing (Some senators do little reading of the construction handbook, chat with the appraisers, and visit the building once and they immediately conclude there is overpricing)," he said. 
The bulk of the Vice President's speech, however, was on his apparent campaign platform for the presidency in 2016 – food on every table, a shield against rising prices, and opportunities for all, especially the poor.
He said he is ready to do for the whole country what he had done to Makati City, the premiere financial district where citizens get special perks and good public services.
'VP failed to impress'
The Vice President's defense, however, did not impress his critics, among them Renato Bondal and Hechanova, who held a news briefing at a nearby restaurtant shortly after Binay's address.
Bondal and Hechanova, who had appeared at the Senate blue ribbon sub-committee hearing on the Makati building, said Binay failed to address their allegations.
"Kung ayaw niyang umatras, mas lalong ayaw naming umatras (If he doesn't want to back out of the fight, more so us)," Bondal said.
Bondal – who with Nicolas "Ching" Enciso VI had filed plunder charges against the Vice President and his son, Makati Mayor Junjun Binay over the alleged overpriced building – again challenged Binay to appear at the Senate hearing."
He said since Binay is a veteran lawyer who believes he has done nothing wrong, he would have no problem defending himself from allegations at the Senate hearing, and that the people are expecting him to do this.
Hechanova said more witnesses will attend the September 25 hearing of the Senate panel
"Asahan 'nyo marami pang lalabas na testigo sa September 25 (Expect more witnesses to testify on September 25)," he said.
Hechanova had testified before the Senate panel that he was once directed to "trap" an interested bidder in an elevator so that the preferred bidder would win – a story corroborated by businessman Marcial Lichauco Jr  before the Senate panel. – Rappler.com