Vice President Jejomar Binay hits back at 'elitist' members of the Cabinet and Congress, citing their 'unusual interest' in his critics' allegations of corruption against him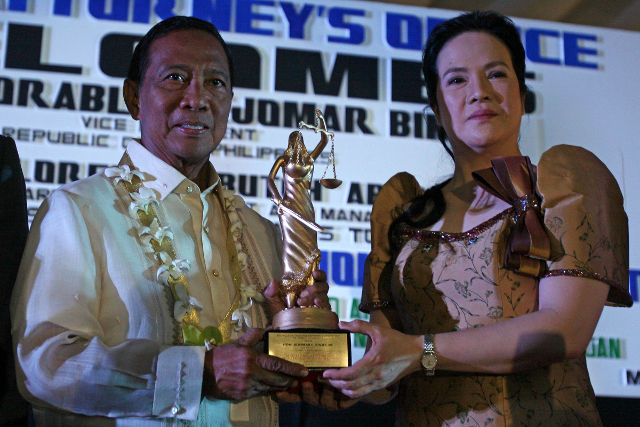 MANILA, Philippines – The Vice President of the Philippines cried foul over "being prosecuted and persecuted" by those in and out of government who are "fueled more by personal ambition than a search for truth."
In a speech before the 5th MCLE Accredited National Convention of Public Attorneys on Tuesday, October 14, Vice President Jejomar Binay particularly criticized Justice Secretary Leila de Lima for her "unusual interest" in investigating him for alleged corruption despite the many cases calling for her attention.
De Lima had said the National Bureau of Investigation under her department would likely pursue a probe into the Binay family's allegedly ill-gotten wealth.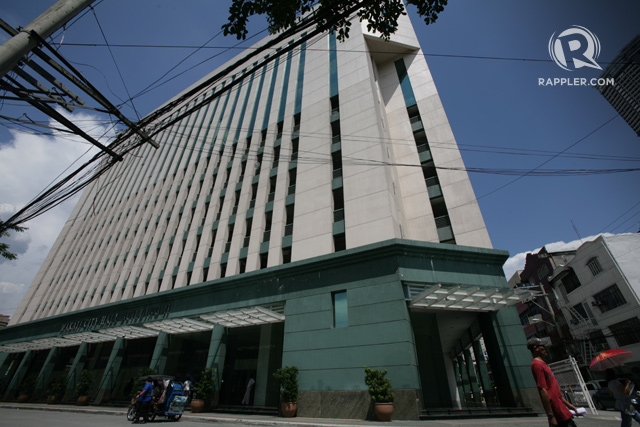 Binay and his son, Makati Mayor Jejomar Erwin Binay Jr are already facing plunder complaints before the Ombudsman over an allegedly overpriced Makati building. The complaint sparked a Senate probe led by senators Aquilino Pimentel III, Alan Peter Cayetano, and Antonio Trillanes IV.
Since the probe began, the Binays' former allies and former Makati city officials have come forward, accusing the political family of making a business out of the city government's transactions.
"These actors appear to be more interested in the fulfillment of a script rather than the obtainment of true justice for all men, as protected by the true rule of law," the Vice President told an audience of lawyers.
Caloocan Representative Edgar Erice recently floated the idea of filing impeachment raps against the Vice President. On Tuesday, Binay said this was something they saw coming. (READ: Nancy Binay to critics: Go ahead, impeach my dad)
"The cat is out of the bag, it is all part of the script, na talagang by all means, ang kanilang (their) operation, Operation Anybody but Binay. Nandoon sa Senado. Ngayon impeachment (Before, it was the Senate probe. Now it's an impeachment complaint)," said Binay.
Members of Congress, however, including those allied with President Benigno Aquino III, have dismissed the possibility of impeaching Binay, who is the leader of the opposition.
The Binays have dismissed the probe as politically motivated and have time and again defended themselves from the exposes. Binay is the only politician with clear and publicized plans to run for president come 2016.
De Lima's 'unusual interest'
Binay also questioned De Lima's "unusual interest" in probing alleged cases of corruption in Makati when the justice department has a gamut of other cases to check.
"May mga dapat ihabla sa DAP, PDAF, kung ano-ano pa. Ito naman, ako ang inuuna pa. Para bang wala nang gagawin ang Department of Justice kaya ako inuuna," said Binay.
(There are a lot of things they need to investigate, like the Disbursement Acceleration Program, the Priority Development Assistant Fund, and so many other issues. Why are they prioritizing me? Do they have nothing better to do at the justice department?)
In an interview with reporters after the speech, Binay explained the process that should be followed before the Senate can even request the DOJ to start an investigation. Binay said the subcommittee much first draft a report, which will then be sent to the main committee. The committee will then have to discuss the recommendations during a plenary session.
The subcommittee has yet to wrap up its probe.
Binay has at least 3 allies in the Senate. Aside from his daughter Nancy, he has 2 clear allies: Senators Joseph Victor Ejercito and Gregorio Honasan II. The two are members of the United Nationalist Alliance (UNA), the coalition that will be turned into a political party in time for Binay's presidential bid.
Two other senators who are allies of Binay – Jinggoy Estrada and Juan Ponce Enrile – are in jail for their alleged involvement in the pork barrel scam.
Binay said it was unfair that while Estrada, Enrile, and Senator Bong Revilla are now in jail over the scam, Aquino's allies have yet to press charges against other lawmakers.
He also questioned why one of Aquino's closest friends, Philippine National Police (PNP) chief Director General Alan Purisima was not facing complaints despite the barrage of accusations of amassing wealth illegally against him. Aquino himself has come to Purisima's defense in several occasions.
'Salita ng mayaman'
Members of the ruling Liberal Party in Congress did not escape Binay's criticism. He noted that a lot of people "attacking" him are the same ones "surrounding" Interior Secretary Manuel Roxas II, who is also the presumed standard bearer of the party in 2016.
Binay's ally, interim UNA secretary general JV Bautista, alleged that the LP was behind the attacks against Binay. In an earlier interview, Bautista said Roxas himself was behind "Operation Plan Stop Nognog 2016," a scheme to hurt Binay's chances in 2016.
"Nognog" is a derisive Filipino term for people with dark skin. "'Yun naman ho mga salita ng mayaman: yung nognog ba…. Negro ho ang ibig sabihin nun. Hindi ko naman ikinahihiya ang pagkamaitim ko," Binay told reporters.
(That's a term rich people use: nognog. It means you have dark skin. I'm not ashamed of the color of my skin.)
Binay said his lawyers were "studying" what legal actions they could take against people who allegedly launched the "operational plan" against him.
The Vice President insisted all the allegations against him were concocted and politically-motivated. He said he was disappointed over the kind of politics that prevails in the country.
"Ang buong akala ko ay magbabago na ho ang pulitika natin. Ito mga kasinungalingan, paninira, pangungutya, hindi lang sa akin kundi pati sa pamilya ko," lamented Binay. (I thought politics in this country would change – these lies, demolition jobs…not just against me, but my family.)
"Biro mo sinabi nung testigo nila, inutusang pumunta ng [asawa ko sa] London. Magkagalit ho sila ng asawa ko. Hindi nag-uusap nga 'yun. Paano siya uutusang pumunta sa London?" said Binay, referring to former Makati Vice Mayor Ernesto Mercado's expose on a multi-billion property allegedly owned by the Binays in Batangas.
(Would you believe one of their witnesses said he was told to go to London [by my wife]. They're not friends, they don't talk. How would he be able to go to London?)
The Vice President is set to hold another press conference this week, presumably to talk about the more recent claims made by Mercado.
Although he and his camp have expressed confidence the Senate probe and exposes would leave Binay unscathed, his ratings tell a different tale. Both trust and approval ratings and preference ratings for 2016 have slid considerably since the probe began.
Binay, however, still enjoys the highest approval and trust ratings among the country's top officials including President Aquino, Senate President Franklin Drilon, House Speaker Feliciano Belmonte Jr, and Chief Justice Ma. Lourdes Sereno. – Rappler.com