'There's a need to file a plunder case to ensure that Arroyo will not be able to post bail,' says Rep. Colmenares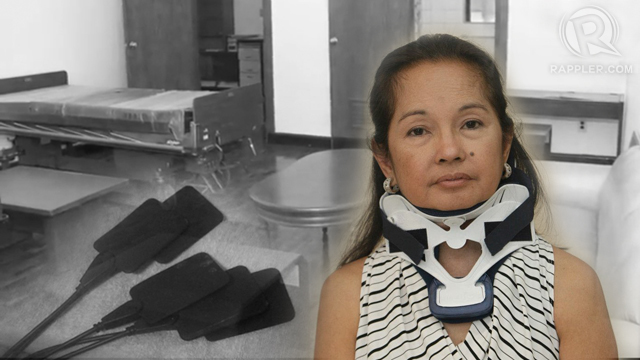 MANILA, Philippines – Amid fears that the Pasay court hearing former President Arroyo's electoral sabotage case may grant her bail, a group urged the Ombudsman to act on the plunder and graft complaints filed against her.
Bayan Muna partylist representatives filed on Tuesday, June 19, an urgent Motion for Resolution on their plunder complaint. Plunder is non-bailable.
The complaint was based on the alleged malversation of the funds of the Philippine Charity Sweepstakes Office (PCSO) during her administration.
"There is a need to immediately file a plunder case to ensure that Arroyo will not be able to post bail," Bayan Muna party list Rep. Neri Colmenares said.
The Pasay court issued the warrant of arrest against Arroyo in November. She is currently under hospital arrest.
Arroyo's petition for bail is pending before the court. The Arroyo camp believes there is weak evidence against her.
Colmenares said former PCSO manager Rosario Uriarte can turn into a state witness against Arroyo.
"It must be noted that during a Senate investigation it was revealed that between P150 million to P350 million of the PCSO funds, including its "Public Relations Fund" were realigned to its supposed "intelligence funds" and now cannot be traced," the Bayan Muna statement reads. 
Another Bayan Muna representative, Teodoro Casiño, lamented that they filed the case much earlier than the complaint on the allegedly questionable national broadband deal with Chinese company ZTE Corp., which is now being heard at the Sandiganbayan. Based on the Akbayan complaint, Ombudsman Merceditas Gutierrez filed graft charges against Arroyo. 
Graft is a bailable offense.
"We also want this (PCSO complaint) one to be resolved immediately considering that the case here is plunder. We believe that this is a very strong case against Gloria especially since her co-accused Uriarte admitted the irregularities under oath and would be a very big push for our campaign for accountability," said Casiño. – Rappler.com
More in #ArroyoWatch: