'We went beyond, I think, our obligations under VFA by reaching an agreement with the Philippines that allowed the suspect to be moved to a facility at Camp Aguinaldo,' says US Ambassador Philip Goldberg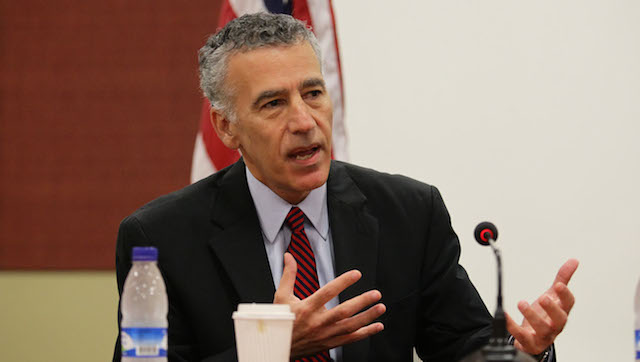 MANILA, Philippines – US Ambassador Philip Goldberg said the US decision to take the "unusual step" of transferring US Marine Private First Class Joseph Scott Pemberton to a Philippine military camp is a confidence-building measure meant to assure Filipinos that the US "understands the situation."
"We took this step allowing – within our custody under the VFA – a suspect to be moved to sovereign Philippine soil. It is an unusual step, one meant to build confidence that we understand the situation here. We're sympathetic to the family. We're sympathetic to the Filipino people," Goldberg said on Friday, October 24.
In a roundtable with select journalists from media groups, including Rappler, Goldberg said public opinion was a factor in the decision, which goes "beyond" the US obligations under the Philippines-US Visiting Forces Agreement (VFA) though Pemberton – suspected of killing transgender Filipino woman Jennifer Laude – remains under US custody while detained in Camp Aguinaldo. 
"We went beyond, I think, our obligations under VFA by reaching an agreement with the Philippines that allowed the suspect to be moved to a facility at Camp Aguinaldo that maintain the principles of VFA – remaining under US custody," he said.
The US envoy added that the decision was made "in a way that's sympathetic to public opinion here, that is sympathetic of the government and judicial process here, and that assures the people that the suspect will be here for the length of hearings and, possibly, if it will come to a trial."
The VFA provides that Philippine courts will have jurisdiction over erring US troops, but custody will remain with the US. Pemberton's transfer to Camp Aguinaldo shows a difference in US action compared to the 2006 case of US Marine Lance Corporal Daniel Smith, who underwent trial for the rape of Filipina Suzette Nicolas.
In Smith's case, the US insisted on detaining him inside the US Embassy for the duration of the trial and even after his conviction, pending appeal. He was acquitted after Nicolas recanted her allegations against Smith. (READ: EDCA, Olongapo murder, and the old case of Daniel Smith)
Goldberg said the US government also has the obligation to protect the rights of Pemberton and all Americans who join the US military.
"This is the commitment we make to the American people and American Congress to do those things as government representatives," he said.
Goldberg said the US has also protected Laude's right to get the justice she deserves. He said the same treaty allowed the involvement of the US Naval Criminal Investigative Service (NCIS) which led to the quick identification of the suspect, and the cooperation of the witnesses.
"Quite frankly, I don't know if that would have happened if it hadn't been for our cooperation with investigators from the NCIS," said Goldberg.
 He added: "This case may not have been resolved as quickly or as effectively without our cooperation. It is a very important point. It is our obligation, obviously, but it is also our instinct. Our instinct is to actually pursue justice." (READ: US envoy: VFA makes Laude probe 'quick, successful) – Rappler.com