This comes as China is reportedly 'bypassing' the Philippines in a huge regional investment project, its proposed Maritime Silk Road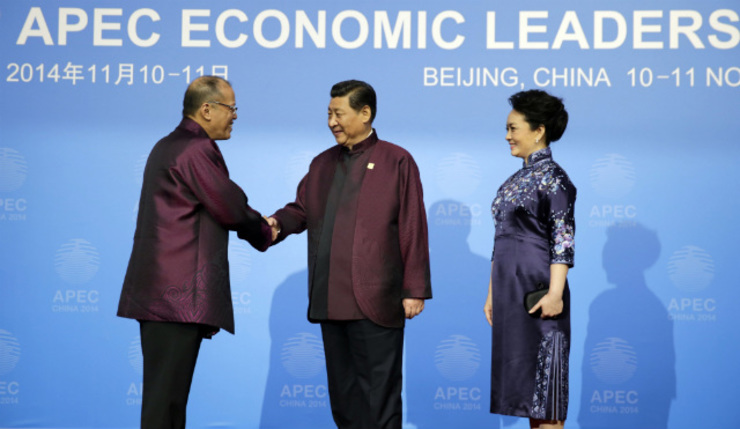 MANILA, Philippines – Eyeing improved trade with China, President Benigno Aquino III said the Philippines is willing to "listen" to the Asian giant that has rejected Manila's historic case over the South China Sea.
In an interview with reporters in China on Tuesday, November 11, Aquino sent signals that the Philippines' approach toward the dispute is flexible as long as it is "consistent with international law."
"'Pag may nagmumungkahi – especially, 'di ba, matagal-tagal na rin na walang ganitong level ng dialogue – eh bakit hindi natin papakinggan? 'Pag pinakinggan natin doon, tapos tingnan natin, 'di ba," Aquino said.
(If someone makes a suggestion – especially because it's been a while since we had this level of dialogue – why won't we listen to it? Then after listening to it, we can study it, right?)
Aquino made this statement after an unprecedented meeting with Chinese President Xi Jinping at the 22nd Asia-Pacific Economic Cooperation (APEC) Chief Executive Officers Summit in Beijing.
The Philippine leader said he met with Xi for 10 minutes after a tree-planting ceremony. He described the meeting as the Philippines' first "direct contact with them" since he met with then Chinese President Hu Jintao in 2011.
Eyeing 'something concrete'
It was, in other words, the first time Aquino met with a Chinese president since the dispute between the Philippines and China heated up in 2012, after a standoff between their vessels in the South China Sea or West Philippine Sea.
China has sidelined Aquino in the past, as when it cancelled an invite for Aquino to visit Nanning, China, in 2013. (READ: Aquino rejects 'unusual' conditions for China trip)
An international think tank explained that China sees Aquino as "provocative" compared to his "receptive" predecessor. (READ: Why China prefers Arroyo over Aquino)
"So it's a nice opening. Hopefully, it will lead to something concrete," Aquino said.
For now, Aquino stressed, the Philippines is sticking to a two-pronged approach to resolve the dispute. 
One way is to pursue its case against China before the Permanent Court of Arbitration, and another is to push for a binding Code of Conduct on the South China Sea.
China has consistently rejected the case filed by the Philippines. In the Philippines' eyes, the Asian giant has also shown a lack of resolve to craft a Code of Conduct. (READ: Philippines' top diplomat hits China for 'expansion agenda')
In any case, Aquino said the Philippines and China both want "constructive ways" to resolve the dispute.
"I emphasized our primary function, and we presumed their government's primary function, is to improve their people's lots or lots in life," he said.
'Concentrating' on trade
Aquino said he and Xi agreed, at least, that "any dispute, any conflict does not enhance our ability to concentrate on improving the lot of our people."
He said he wants to "concentrate" on improving trade with China, even as "many facets" of the two countries' relations have improved.
Aquino said the Philippines' trade with China, for one, grew by 17% from 2012 to 2013. China has also sent Mandarin-language teachers to the Philippines as part of better people-to-people relations between the two countries, he added.
The Wall Street Journal (WSJ), however, recently reported that the Philippines "has paid a high price" for filing a case against China.
In an article on Monday, November 10, the WSJ said the Philippines "risks missing out" on China's Maritime Silk Road, "a planned Chinese infrastructure spending bonanza designed to boost trade and bring jobs to the region."
Philippine Foreign Undersecretary Laura del Rosario said in an interview quoted by WSJ, "Of course, we feel we're alone." – Rappler.com