Currently, only indigent senior citizens 77 years old and above receive P500 monthly pensions. If approved, the Senate proposal will cover all indigent citizens who are at least 60 years old.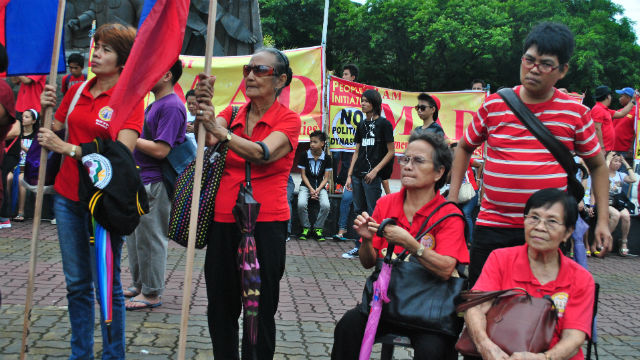 MANILA, Philippines – After pushing for a law that would provide automatic health insurance coverage to all senior citizens, the Senate is moving to make another benefit for the country's elderly possible.
Senator Ralph Recto said on Monday, November 17, that the Senate finance subcommittee, which he heads, has recommended to increase to P7.178 billion the funding for the Social Pension for Indigent Senior Citizens Program in 2015, from the P4.763 billion originally proposed by the Department of Social Welfare and Development (DSWD). 
If approved, this will result in all indigent senior citizens – not just those in the much older bracket – will each receive a monthly pension of P500, or P6,000 a year.
At present, Republic Act 9994 or the Expanded Senior Citizens Act of 2010 provides financial aid for healthcare only to "economically disadvantaged" seniors 77 years old and above. 
For 2015, the DSWD plans to lower the "availment age" to 67 years old, which would benefit 722,294 individuals and would cost the government P4.763 billion.
But Recto said using 67 as cut-off age will leave 401,551 qualified seniors "who are above 60 and below 67" out of the program.
There is an estimated 5.91 million Filipinos aged 60 and above in 2012, accounting for 6.1% of the country's population.
"The consensus was to find funds so that all who are supposed to receive that pension, which comes up to P6,000 a year, will get it," Recto said.
Recto explained that the P2.415-billion increase will grant all indigent senior citizens – or those 60 years old and above – a P500 monthly stipend from the government.
The senator said that his committee cut DSWD's administrative overhead and bureaucratic expenses in order to raise the funds for the full implementation of the senior pension program.
Recto added that the P7 billion to be spent for the program is just equivalent to the amount being spent in a month for the government's conditional cash transfer, also under the DSWD.
In September, Senate approved Senate Bill 712, will make mandatory the provision of Philhealth coverage to all Filipinos 60 years and above regardless of their social or economic status. It has been signed into law by President Benigno Aquino III and will be implemented starting November 25.
A report released by the United Nations Population Fund (UNFPA) in 2012 stated that senior citizens encounter problems in healthcare, one of which is access to affordable medicines. (READ: Senior Pinoys to reach 23.63-M in 2050 – UNFPA) – Rappler.com