The Department of Health has recorded 176 fireworks-related injuries from December 21-31, including 6 that required amputation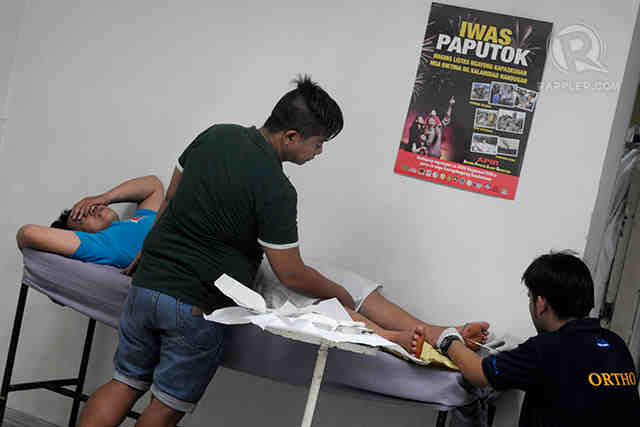 MANILA, Philippines (UPDATED) – As Filipinos prepared to welcome 2015, health officials and concerned doctors made a final plea: Celebrate New Year's eve without firecrackers.
In a news briefing on the Department of Health's anti-firecracker campaign on Wednesday, December 31, Acting Health Secretary Janette Garin said the department has recorded 176 fireworks-related injuries from December 21-31.
Of the cases, 173 were caused by the explosion of fireworks, and two cases from ingestion. Six cases required amputation, while 33 cases involved eye injuries.
Separate monitoring from the Philippine National Police showed a total of 173 firecracker and stray bullet-related incidents as of 6 pm Wednesday.  
A total of 8 arrests were made out of 13 incidents involving the illegal discharge of firearms. Meanwhile, the police recorded 10 incidents of stray bullets injuring 7 individuals, 28 firecracker-related injuries, and 2 fires due to firecrackers. 
Police arrested 33 individuals over the illegal sale of firecrackers as of 6pm. 
To illustrate the dangers of firecracker use, Garin was joined by a tricycle driver who lost sight in one eye from mishandling a "pla-pla," a large triangular firecracker, and  doctors who attested to the health hazards of firecrackers even to those who don't use them.
Mark Jason Samin, 23, lost his left eyesight and his livelihood due to firecracker use. At the time of the accident, he already had 3 children, with another on the way, making it difficult for the family to get by.
Danger to non-firecracker users
Dr Maricar Limpin, a pulmonologist from the Philippine Heart Center,  warned that firecrackers release toxic fumes and chemicals that have serious health implications.
"What happened to Jason is only one of the bad effects of firecrackers but more are affected by the inhalation of fumes from firecrackers," Limpin said.
She added, "Lason po sa baga ang binubuga ng paputok (Firecrackers spew fumes that poison the lungs)."
Limpin said the most dangerous particles released by firecrackers are those that get lodged in the lungs – metallic elements that enter the respiratory system.
These pollutants can cause cough, and induce phlegm and shortness of breath, she said, while those with existing lung diseases such as asthma and chronic obstructive lung disease would be worse off.
She said in some cases, mere inhalation may require expensive hospitalization.
Dr Minguita Padilla, ophthalmologist and DOH consultant advised those who get hit by firecrackers in the eye to use clean water to irrigate the eye as first aid, and then to rush to the hospital if the eye itself is affected.
"Don't attempt to touch the outside area of the eye and the eye itself. This would worsen the damage. Don't put any pressure on the eye," Padilla said.
Garin  also appealed to the public to donate to Tropical Storm Seniang victims in the Visayas and Mindanao instead of buying firecrackers.  
President Benigno Aquino III himself has urged the people to refrain from firecracker use.  (READ: Aquino's New Year request: Don't use fireworks)
The DOH reported 599 fireworks and firecracker-related injuries in last year's New Year's Eve festivities.
Meanwhile, the Bureau of Fire and Protection has reported 6 fires this holiday season, so far, related to firecracker use. The BFP said in once incident, a "kwitis" or baby rocket caused a fire in a lumber yard in Abra. – Rappler.com