The Philippines' Department of Health says 65% of those who were injured while welcoming the New Year are between 5 and 20 years old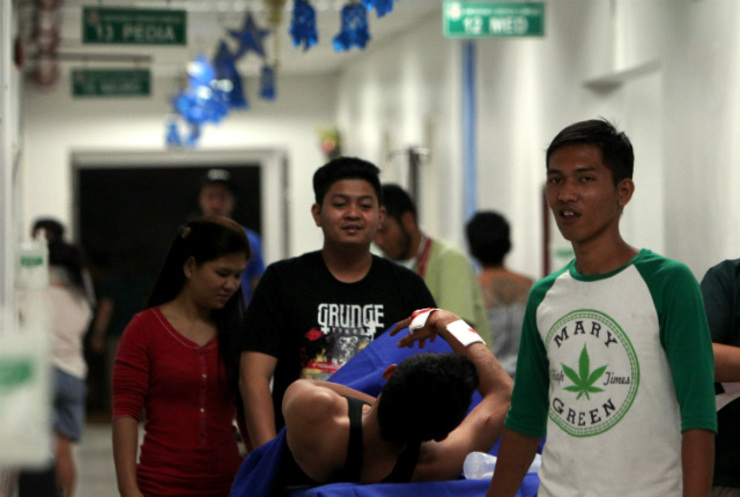 MANILA, Philippines – Children and teenagers suffered most from New Year fireworks in the Philippines as the number of fireworks-related injuries rose to 730 on Saturday, January 3.
The number of fireworks-related injuries rose by a fourth from 580 on Friday, January 2, the Philippines' Department of Health (DOH) reported.
The DOH said children from 5 to 10 years old suffered 32% of these injuries, while adolescents from 11 to 20 years old suffered 33% of these. Together the injuries suffered by young people made up 65% of the total.
Data also showed males comprised 4 out of 5 injured persons; females, 1 out of 5.
Most of the victims – 62% – got wounded because they themselves used fireworks, while 38% sustained injuries because of other people's fireworks.
Used against bad luck
The number of fireworks-related injuries in 2014, however, is lower than in 2013.
Government statistics show fireworks injured 1,006 people the previous year. The figures for 2014 went down by 27%.
The effects of New Year fireworks, however, went beyond injuries. Data obtained by Rappler show that, in parts of Metro Manila, the post-New Year air pollution level was 13 times above safe standards.
Filipinos use fireworks to mark the New Year because they believe these can drive away bad luck.
Religious groups dismiss this as superstition, and the government has campaigned against the use of fireworks for years. Still, Filipinos stick to this annual custom, which this year drew the attention of international websites Newsweek and Mashable. – Rappler.com