Former Comelec commissioner Augusto Lagman accepts the Comelec chief's challenge, on one condition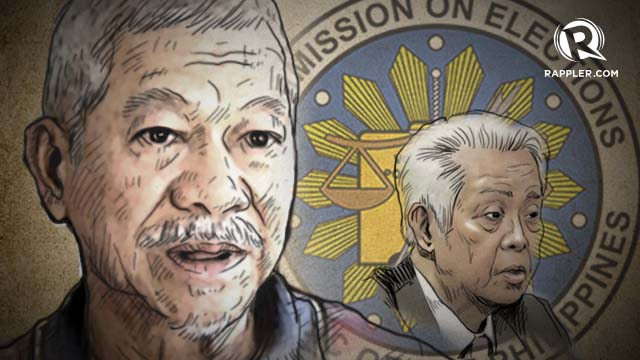 MANILA, Philippines – Commission on Elections (Comelec) Chairman Sixto Brillantes Jr dared a former poll official to prove that the precinct count optical scan (PCOS) machines that will be reused in the 2016 elections can be "easily rigged."
In an interview on ANC's Headstart on Wednesday, January 7, the poll chief called out critic and ex-Comelec commissioner Augusto "Gus" Lagman for his comments that the PCOS machines can be used to cheat in automated elections.
"If it [could really be] easily rigged, it is his obligation and his duty to come to us and show it to us," Brillantes said.
"He was with the Comelec for 10 months. He never said this, he never mentioned about PCOS machines being rigged, or which could be easily rigged," Brillantes added. Lagman served the poll body as commissioner from 2011 to 2012.
"If he really wants to help the Filipino people, then show it to us, so we can prepare for the 2016 elections," Brillantes said.
Lagman accepts
In a phone interview, Lagman said that he accepts the poll chief's challenge.
"I said yes. My only condition is that there should be a Smartmatic programmer who knows how to modify the program, so I could give instructions and show [my proof to] the Comelec," said Lagman.
The 82,000 PCOS machines were supplied by Smartmatic-Total Information Management (TIM) Corporation to the Comelec for the 2010 and 2013 automated elections, and will be reused in the 2016 polls.
Comelec and Smartmatic have been hounded by criticisms on their performance in past automated polls, due to many controversies and reported glitches surrounding the PCOS machines.
Making the issue personal?
While admitting that Lagman is his friend and batchmate, Brillantes said that the ex-commissioner was already making the issue personal.
"I've never responded much to what he was saying, only because he was ousted from the Comelec effectively when he was not reappointed. But ethics demand na kung galing ka sa Comelec, hindi mo naman tinitira [pag-alis mo] (that when you have served in the Comelec, you do not attack it when you leave)."
"You can always come back to the Comelec and explain your own position. But him, he goes to public hearing and attacks the Comelec," he added.
He then said that Lagman "really does not like Smartmatic," as per the minutes of past Comelec meetings while he was Commissioner.
In response, Lagman said that it's Brillantes who was making things personal.
"Hindi naman niya masagot ang mga arguments ko at 'yung mga maling ginawa ng Comelec (He cannot even respond to my arguments and the wrong things the Comelec had done)," he said.
Lagman added that from the start, he was against the purchase of the PCOS machines in 2012 after the poll body leased it from Smartmatic in 2009.
Back when the PCOS machines was still leased, Smartmatic was in charge of warehousing and preparing the machines. After the purchase, "it became the Comelec's expense," said Lagman, who favored a different system that is cheaper and more transparent.
No 'midnight deal'
Brillantes also denied that the Comelec's approval of a P300-million deal with Smartmatic-TIM to inspect 82,000 PCOS units for repairs was a "midnight deal," as alleged by Lagman.
In TV interviews, Lagman claimed that the deal was accommodated before Brillantes and commissioners Lucenito Tagle and Elias Yusoph retire from the Comelec on February 2.
"As long as I am the incumbent, I will sit down and sign contracts," Brillantes told ANC.
In a separate interview with the media on Wednesday, Brillantes explained further that the Comelec has started discussing the matter back in August 2014, but consulted its law department first and deliberated on it further.
Brillantes also said that the 3 retiring commissioners, including him, only broke the 2-2 vote on the PCOS diagnostics deal by the 4 remaining junior commissioners in the steering committee, which spearheads all preparations for the 2016 polls. – Rappler.com