Families from all walks of life gather outside the MOA Arena to wait for the Pope. They say seeing him is worth the wait.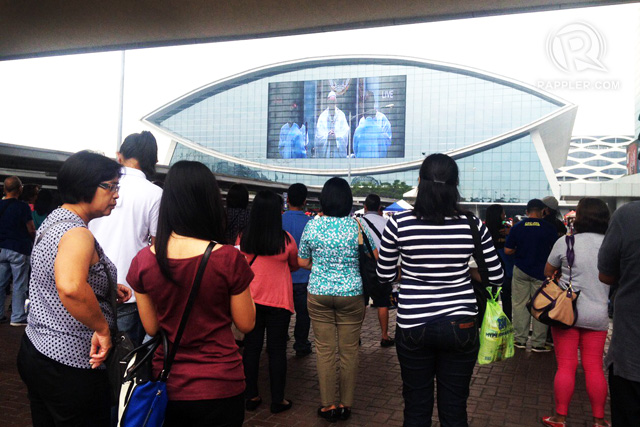 MANILA, Philippines – Everyone joining the Encounter with Families event has their own reason to brave the crowd at the Mall Of Asia to see Pope Francis on Friday, January 16. 
Some want to catch a glimpse of the 'rockstar' patriarch of the Catholic Church while others hope to fulfill a life long devotion to their faith. 
For the Regidor family, their only wish is for the Holy Father to bless and pray over their little bundle of joy.
Six-month-old Frances Regidor is suffering from congenital heart disease. Her condition has affected her health and required expensive medical care.
Taking a day off from work was not a priority for Frances' parents because of their daughter's medical needs.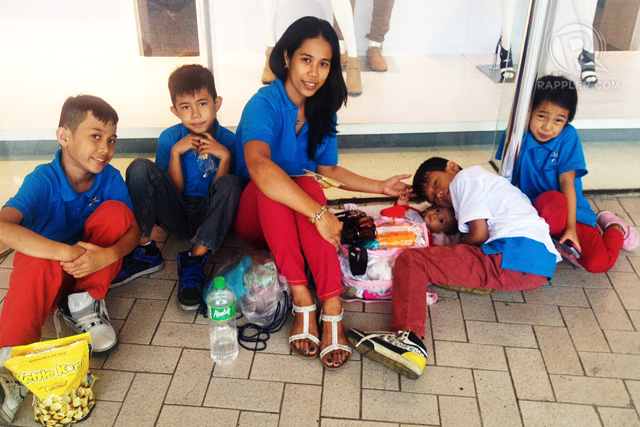 It was her aunt, Karen, who brought baby Frances in the hope that Pope Francis would notice her despite the huge number of Catholic faithful and pray for her recovery. 
"Ang pamilya namin wala na talagang ibang pinagdadasal maliban sa gumaling na ang pamangkin ko," Karen told Rappler. "Mahirap talaga ang sitwasyon na may sakit siya kasi sino ba gusto makita na nahihirapan ang kapamilya mo?"
(My family doesn't pray for anything else but for my niece to get better soon. Who wants to see your family member suffer?)
With three holes in her heart and other complications, there isn't a day when Karen and her family do not worry for Frances' future. 
Even the infant's young cousins look forward to the day that they can run and play outside. 
"Sana gumaling na si baby para masaya na ang lahat," 7-year-old Gian said while stroking his baby cousin's head. (I hope she gets better so we can all be happy.)
'Lolo Kiko'
The wait for Pope Francis will be worth it, Karen said, even if they have to sit on the cold concrete floor of the venue. 
With only a thick blanket serving as her bed, baby Frances' eyes wander, seemingly not used to seeing so many people.
"Lolo Kiko will be here soon!" exclaimed 6-year-old Alex as she reminded her baby cousin not to worry anymore. – Rappler.com