In the Senate probe, police and military generals explain why hundreds of other SAF commandos and soldiers nearby were unable to rescue the cops trapped in a firefight with the Moro Islamic Liberation Front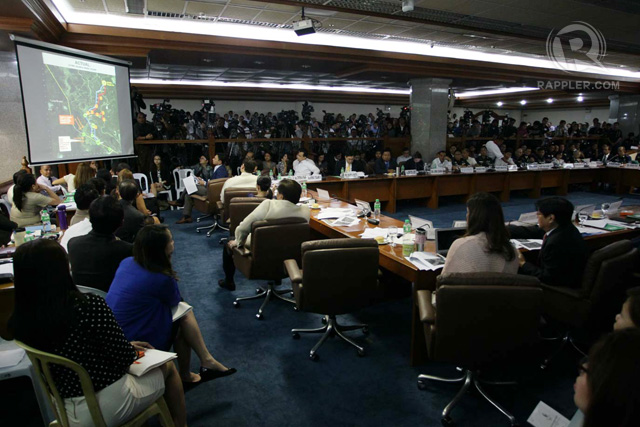 MANILA, Philippines – The first day of the Senate probe into the death of 44 Special Action Force (SAF) commandos turned into a face-off between relieved SAF commander police director Getulio Napeñas and military commanders whom he accused of failing to reinforce his beleaguered troops on January 25.
The Monday, February 9 hearing also became  a venue for the senators to present their arguments for and against the continuation of the peace process with the Moro Islamic Liberation Front (MILF), the group that engaged the SAF in the deadly firefight.
Senator Grace Poe asked the SAF commander to explain why hundreds of other SAF commandos in the highway were unable to help their comrades. Senator JV Ejercito also asked why the military was unable to provide air support. The two senators echoed the questions raised in the blame game between cops and soldiers.  (READ: Inside Mamasapano: Whe the bullets ran out)
While Senator Teofisto Guingona III lamented calls to end the peace talks with the MILF, Ejercito also expressed concern about possible dangers in allowing the ceasefire to continue.
Guingona: Mayroong mga sumisigaw ng all out war. Maling mali yan. Hindi yan ang tamang landas. Alam natin lahat, lalung-lalo na ang mga sundalo at pulis, na pagdating sa digmaan, walang panalo. Walang panalo. Ang unang mabibiktima sa digmaan ay ang mga sibilyan, mga nanay, mga bata at ang mga pamilya. Walang mananalo sa digmaan.
Ejercito: I think this ongoing ceasefire, because of the ongoing peace agreement, was just being used by the MILF to strengthen their forces given the kind of weapons and the volume of ammunition they had. We just have to take note of that. Hopefully the ongoing truce will not be used to fortify and strengthen their ranks.
The neophyte senator shares the view of his father, former President Joseph Ejercito Estrada, who launched an all-out war against the MILF during his term.
Firefight between a team of 36 SAF commandos and MILF 105th Base Command erupted before 6 am on January 25 in the cornfields of Barangay Tukanalipao in Mamasapano. Only one SAF trooper survived the gun battle. The firefight between the other group of SAF commandos and the MILF breakaway, group Bangsamoro Islamic Freedom Fighters (BIFF), is another matter. (READ: Mamasapano: AFP unaware of 2nd SAF team) 
Where were the 300 other SAF?
Napeñas was adamant in telling senators that the January 25 operation could have ended very differently if only the military, which had better equipment than the police, provided reinforcement.
He belied the military's claims that the SAF did not provide grid coordinates that would have allowed them to provide artillery support. 
Napeñas noted the impact of the white phosphorous that the military fired at 6:30 pm before troops went in to save and extract the other team of SAF commandos. 
Senator Grace Poe turned the tables on Napeñas when she asked why the 300 other SAF commandos in the highway were unable to rescue their beleaguered comrades.
Poe: "The other troops that were waiting outside, yung mga naiwan po na SAF doon sa labas na hindi po nakapasok dahil sa bigat ng laban ng MILF, may nasaktan ba sa kanila?"
Napeñas: Wala na pong na-wounded. 
Poe: Walang na-wounded. Ibig sabihin, they didn't even try engaging?
Napeñas: Hindi po totoo yun, your honor. Pinagpupumilit nila na pumasok doon sa lugar kasama ang Division Reconnaissance Company ng Army, yun lamang sobra lang talaga ang volume ng fire at saka open field ang dadaanan kaya hindi sila makapasok ng lugar para tulungan ang 55th company.
Poe: Siyempre, hindi naman po tayo puwede magbilangan ng bala na ginamit. Kinukuha ko lang po ang inyong salaysay na nakipaglaban na sinubukan nila kaya lang talagang napakabigat. Siyempre dapat naman isipin din natin naiwan natin ang mga kasamahan natin sa loob. Kaya ko tinatanong ito, number one, meron ba nag-utos na mag-stand down? Number two, na-accomplish na ba ang mission kaya hindi na talaga 100% sumugal na paglusob ang natitira pa. Kasi 300 yan eh. Kahit na papaano kung lumaban yan meron mahahagip na bala. Meron masisira o masasaktan. Parang wala namang report doon sa labas. Hindi naman sa pagdududa sa kagitingan ng ating kapulisan, pero parang hindi talaga gumawa ng dapat nilang gawin para matulungan ang naiwan pa sa loob. Wala ba kayong video documentary niyan? 
Napeñas: Wala kaming video niyan your honor pero dinig na dinig ko ang command ng battalion commander na nandoon sa advance command post na inuutusan niya sila to move forward. Hindi talaga nila kayang pumasok kasi ang volume of fire na galing sa kalaban at ang open field na dadaanan ay hindi nila kayang pasukin. 
Why no air support?
It was Armed Forces chief of staff General Gregorio Catapang Jr who explained to Ejercito why the Philippine Air Force could not fly its attack helicopters to provide air support.
Catapang spoke of the dangers of the situation blowing into a full-scale war if the military hastily joined the firefight. (READ: Inside story: SAF kept the military out of the loop) 
Ejercito: Hindi ba na-consider, General Catapang, to send air support? Alam niyo ang sabi nga nila, lamang sa engkwentro 'yung nasa mas mataas na position. Considering that the AFP has those equipment, siguro yung persuasion flights could have played a big role in that engagement. Siguro makita lang o marinig lang ang mga eroplano. Alam nila may bomba yan. Hindi na-consider na paliparin ang air assets as support for our beleaguered SAF personnel?
Catapang: We cannot do that because, first of all, there was no request for air support. If we provide air support, it will inflame the situation because the MILF might think that we are attacking already. The most important thing was to set up the ceasefire mechansim at that point in time, your honor.
This was the time when Ejercito warned against the MILF using the ceasefire to strengthen its ranks.
How about artillery support?
Napeñas said artillery fire would have helped the 55th SAF the way it helped the other group of SAF commandos later that evening.
He told senators he wished the survivors among the SAF Seaborne unit could testify how the enemies dispersed and were frightened by the white phosphorous that the military fired at their location. 
The military timeline showed that chief of the Army 6th Infantry Division, Major General Edmundo Pangilinan, immediately sent troops and tanks but did not approve artillery support pending the availabity of "complete" information on the firefight. 
It was Catapang who explained why. "Nagkaroon kami ng experience na nagkaroon ng friendly fire. Hindi kami kaagad makabigay ng artillery fire because of those circumstances," he said. He was referring to an incident last year where Marines in Sulu fired at an Army detachment, killing 6 elite Light Reaction troops.
Catapang said they needed at least 3 crucial information before they could fire artillery: location of the troops, location of the enemy, and a forward observer. 
It appears the SAF was only able to provide the first, the location of the SAF troopers. Catapang told reporters after the Senate hearing that what they were given were hours-old grid coordinates that could not be used in a running gun battle.
The military said the absence of proper coordination prevented them from preparing contingency plans to assist the SAF. But Napeñas stressed the need to keep the operation a secret even from the military because he feared that the operation would leak and the target would be warned. – Rappler.com