Chinese Ambassador Zhao Jianhua shrugs off security concerns over a Chinese firm's 40% stake in the National Grid Corporation of the Philippines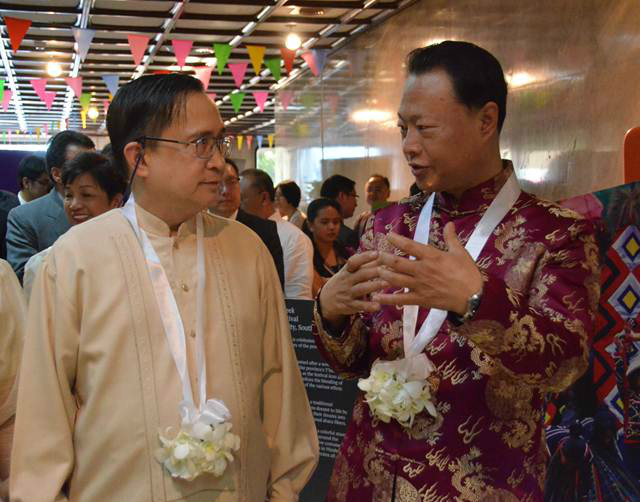 MANILA, Philippines – Chinese Ambassador to the Philippines Zhao Jianhua defended the 18 Chinese experts at the National Grid Corporation of the Philippines (NGCP), whose work visas the Philippines will not renew by July.
"This should not be considered a security issue," Zhao told reporters Wednesday, March 3, after Senator Miriam Defensor Santiago said the presence of Chinese experts in the NGCP exposes the Philippines to a "national security virus."
The NGCP is a private corporation that operates, maintains, and develops the Philippines' power grid. The State Grid Corporation of China (SGCC) owns 40% of NGCP – which alarms observers as the Philippines is locked in a dispute with China over the West Philippine Sea (South China Sea).
While Zhao shrugged off the security concerns, he said he hasn't thought about filing a protest against the Philippines over the matter. He said the parties involved "can handle it among themselves."
Zhao spoke on the sidelines of the launch of "Philippine Fiestas and Festivals: Photography by Donald C Tapan," a traveling exhibit to mark the 40th anniversary of diplomatic relations between the Philippines and China this year.
Zhao made these statements after Energy Secretary Carlos Jericho Petilla, on February 23, said government agencies agreed "there will be no Chinese nationals who will operate the national grid."
The work visas of the 18 Chinese experts will expire in July.
'Risk of sabotage' 
Petilla was reacting to Santiago's statement on February 22. The feisty senator said, "The Philippine Constitution is replete with requirements of nationalism but such a vital and strategic industry such as the electric power industry is infected by a national security virus."
Chinese Foreign Ministry spokesman Hong Lei, for his part, appealed for fairness after the Philippines said it will boot out the Chinese experts. He said the SGCC, after all, has made "important contributions" to the Philippine energy sector.
"We hope that the Philippine side can deal with relevant issues in a just and impartial way, protect the rights and interests of Chinese enterprises in the Philippines, and create a favorable environment for foreign investors," Hong said.
China's involvement in the Philippine power grid has long fueled security concerns.
In February 2014, internal security expert and former interior secretary Rafael Alunan III also warned that China has a "pretty good hold of our vital infrastructure,"
Speaking to Rappler, Alunan cited the SGCC's 40% stake in the NGCP. 
The state-owned SGCC won this franchise in 2008. This happened under former president Gloria Macapagal Arroyo, whom an international think tank described as "receptive" toward China, unlike the "provocative" incumbent President Benigno Aquino III.
In the SGCC's hands, the NGCP "has the crucial task of delivering safe and reliable electricity throughout the archipelago," according to its official website. And here lies the problem, Alunan said.
"Because they control the distribution of power throughout the grid from Luzon to Mindanao, they also have the capability of sabotaging our economy by shutting off the power," he explained. "I think the problem of the Aquino administration is how to undo and reduce the risk of sabotage."
Alunan added: "That will require mobilizing all intelligence agencies of government as well as reviewing government policies as to the privatization of critical infrastructure and the entry of foreign investors in the bidding for vital infrastructure, bearing in mind that national security could be compromised if it falls into the wrong hands, as it has in the case of the grid." – Rappler.com