'The poor and the underprivileged have not been dominant factors in our growth and development strategies,' says Vice President Jejomar Binay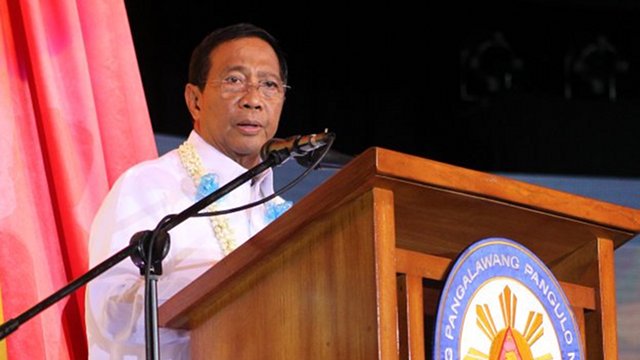 MANILA, Philippines – On Black Saturday, April 4, Vice President Jejomar Binay questioned the Aquino administration's inclusive growth strategy as he made a basic accounting of what the national government has failed to deliver to the country's poor, so far.
Addressing the Shine Philippines Leadership Conference at the Quezon Convention Center, Binay also deemed himself a "servant leader" who has used his official functions to help the underprivileged.
In his speech, Binay quoted several times from Robert K. Greenleaf's The Servant Leader  to differentiate between leaders who "led to lead" and those who "serve first, then lead."
He said Greenleaf has a list of questions to test whether one was a servant leader whose constituents benefit from one's leadership.
"Today, in all humility and candor, as the mayor of Makati, and now as the Vice President of this country, in the housing and the OFW sector, the answer is yes, we have served the less privileged in society. And yet on a national level, there remains much to be done for those who have less," Binay said.
No trickle-down effect?
The Vice President added: "While our macro-economic indicators are stellar, and while at its onset, this administration enjoyed a spring of political stability, the truth is a big chunk of our people continue to be poor, without or with inadequate employment, unable to access vital health services, their kids unable to go to or finish school."
Binay painted a bleak urban Philippines where "criminality is on the rise, public utilities, particularly transport, energy and telecommunications, are deteriorating at a rapid pace – most victims of which come from the lower income and social classes."
He added: "The reason for these alarming outcomes is plain and simple – there is no inclusion. The poor and the underprivileged have not been dominant factors in our growth and development strategies."
Binay's conclusion is contrary to the assertion of the Aquino administration that poverty alleviation is at the core of its reform agenda.
The Vice President also again narrated Makati's transformation under his watch, from a two-faced city – one glamorous, the other impoverished – to his envisioned city that is "for the people" – proof, he said, of his servant leadership.
Binay is the only one, so far, to openly declare his bid for the presidency in 2016. He continues to lead other potential presidential candidates in national polls, despite being hounded by a string of corruption allegations. – Rappler.com