The Aquino administration suffers a 15-point fall in its overall public satisfaction ratings – a performance downgrade from 'good' to 'moderate'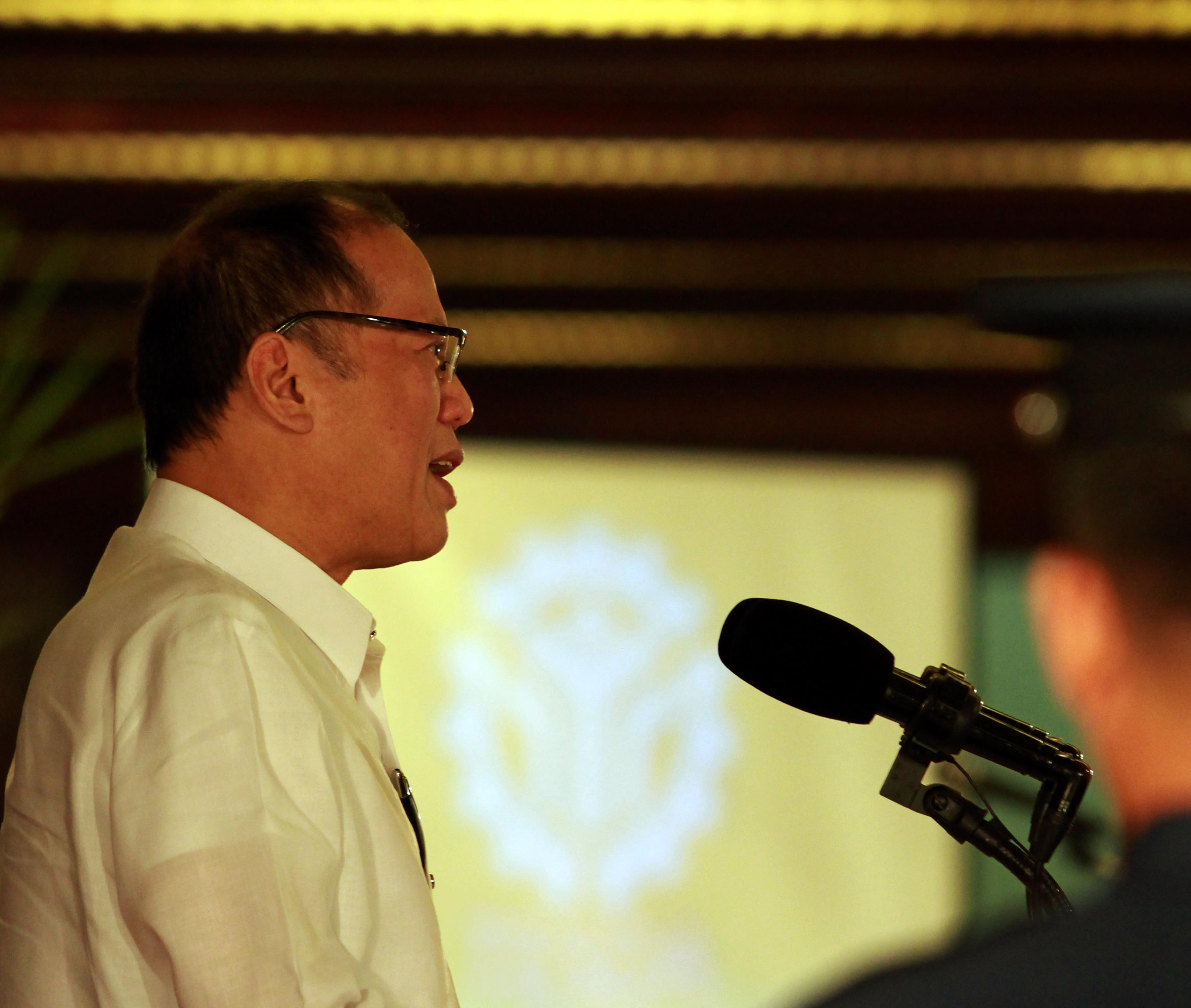 MANILA, Philippines – Less than half of Filipinos are satisfied with the performance of the administration of President Benigno Aquino III.
Based on the latest Social Weather Stations (SWS) survey results released Tuesday, April 21, 48% of respondents said they were satisfied with the national government's performance in the first quarter of 2015, while 23% said they are undecided and 29% said they are dissatisfied – resulting in a net score of +19.
The nationwide survey was conducted among 1,200 representative adults from March 20-23.
The "moderate" grade is a 15-point drop from the administration's "good" +34 score in the fourth quarter of 2014. The drop in grade was observed across socioeconomic classes.
Among class ABC, satisfaction fell 22 points from +41 to +19, 14 points in class D from +32 to +18, and 16 points in the poorest class E from +40 to +24.
Analysts have cited the controversial Mamasapano incident as the reason for the severe decline in the Aquino administration's ratings. 
On January 25, some 392 Special Action Force (SAF) commandos entered Mamasapano town, a known bailiwick of the Moro Islamic Liberation Front (MILF), to serve arrest warrants to top terrorists Zulkifli bin Hir, or Marwan and another terrorist, Abdul Basit Usman.
The operation resulted in a bloody clash between the MILF and SAF troopers leading to the death of a total of at least 65 people, including 44 SAF troopers. 
'We are aware'
Reacting to the drop, Malacañang said it is aware there is still work to be done.
"We are aware that there is significant room for improvement and that we need to continually ascertain the sentiments of our Bosses, the Filipino people," Communications Secretary Herminio Coloma Jr said in a statement.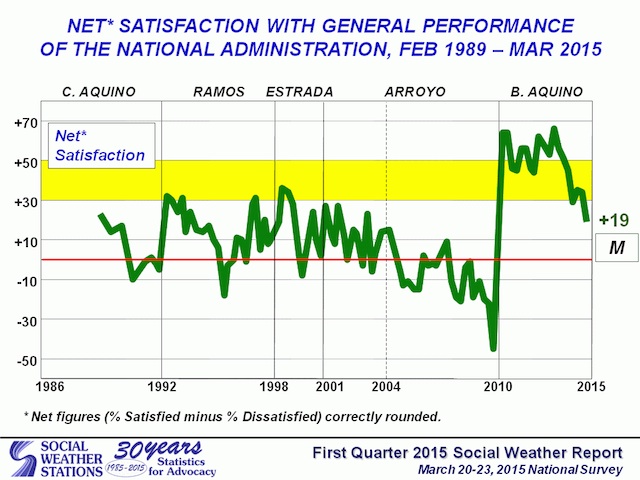 Coloma reiterated that the Aquino administration is determined to see through its reforms and programs.
"The Aquino administration is determined to one, carry on and complete priority programs in all 5 pillars of the Philippine development plan; two, ensure that reforms will be sustained by strengthened public institutions; 3, to tread the righteous path and ensure that good governance becomes the norm at all levels of government; 4 that the gains from the transformation of mindests and institutions will be sustained and made permanent," he said.
Respondents also rated the government on 20 various issues. The administration rated "very bad" in resolving the Maguindanao massacre with justice; but was rated "good" in helping victims of disasters, helping the poor, promoting the welfare of overseas Filipino workers, protecting the environment, and foreign relations.
The administration was rated "poor" in ensuring that no family will ever be hungry, and that oil firms don't take advantage of oil prices.
Issues where it was rated "moderate" include preparing for climate change, defending the country's territorial rights, telling the truth to the people, restoring peace to Mindanao, and providing jobs.
It was rated "neutral" in fighting crimes, rehabilitating areas damaged by conflict in Mindanao, fighting terrorism, eradicating graft and corruption, reconciliation with Communist rebels, reconciliation with Muslim rebels, and fighting inflation. – Rappler.com