(3rd UPDATE) Customs Commissioner John Sevilla announces his decision a day after he vowed to fight any attempt of political groups to use his agency as a milking cow for their 2016 campaign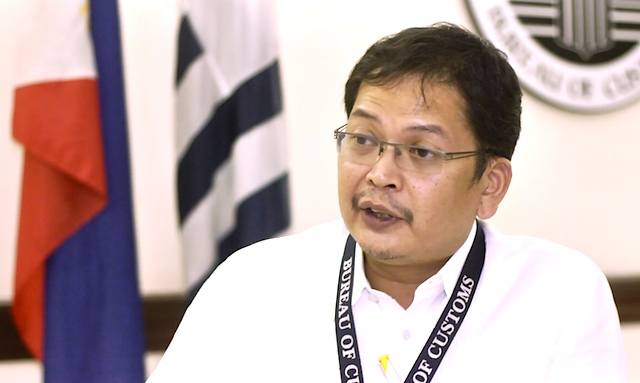 MANILA, Philippines (3rd UPDATE) – Commissioner John Sevilla announced that he has tendered his resignation on Thursday, April 23 – a day after he gave his assurance that he will not allow the Bureau of Customs (BOC) to be used as a milking cow of political camps for campaign fundraising.
After he announced that he has submitted his resignation letter, Sevilla said his resignation was triggered by "politicking" in the bureau, which he had vowed to block when he led the BOC in December 2013. 
"Since the start, I did everything so that politics will not be a factor in running Customs. Last month, it was becoming harder. In the coming months, it will be impossible," he said.
Sevilla said that his resignation was triggered by certain appointments reportedly backed by powerful forces, including the Iglesia ni Cristo, ahead of 2016 polls.  (READ: Customs' Sevilla: Political nominees last straw)
He cited the appointment of lawyer Teddy Raval, head of BOC's Intellectual Property Rights Division (IPRD), to replace acting Enforcement and Security Service (ESS) director Willie Tolentino.
Sevilla said he will remain as Customs chief until President Benigno Aquino III names his replacement. (READ: Businessman Alberto Lina returns as Customs chief)
He also said he did his "best to improve the process in Customs to make it easier for legitimate importers, to reward good behavior and penalize bad behavior," adding, "This is a work in progress." 
The Customs chief said that if there's anything that he regrets, it would be leaving the agency without success in improving the accountability in the BOC.
"Nagisisi din ako na hindi ako nagtagumpay sa pag-improve ng accountability ng Customs. Anong ibig kong sabihin? Kasi dapat pag may ginawa kang mali at nahuli ka, dapat automatic siguradong mapaparusahan. Hindi ko na-achieve 'yun," he said.
He said under his watch, 30 administrative cases had been filed against erring BOC officials and employees who he believed "deserve punishment," but to date, only one case has been resolved.
Reforms should continue
Sevilla is hopeful that his successor would continue the reforms that he and past Customs commissioners, such as Ruffy Riazon, had initiated and asked all stakeholders – importers, exporters, and customs brokers – to keep a close watch on the progress of the reforms to ensure they would be pursued.
"Umaasa ako at nananalangin ako na kung sino man ang sumunod sa akin, itutuloy 'niyo ang inumpisahan [namin] (I am hoping and praying that whoever comes after me would continue what he have started)," he said.
He added: "Ang daming hirap na pinagdaanan ng maraming tao, ang daming nagsakripisyo at nagtaya para mabago ang Customs. Malaking hinayang naman para sa Pilipinas, para sa mga nagsakripisyo kung hindi matuloy ang pagbabago sa susunod ng pamumuno."
(A lot of people sarificed and toiled to reform Customs. It would be a great loss to the Philippines and to those who had made sacrifices if these [reforms] would not continue under the next leadership.)
He noted that BOC employees, especially those in the field, have risked their lives to pursue reforms in the agency.
"Sometimes I would receive text messages from Customs people in the field, that they receive threats, their homes get visited by people affected [by our campaign]. That pains me. If you do the right thing in Customs, it becomes a risk," Sevilla said in a mix of Filipino and English.
He thanked his deputy commissioners and hoped they would remain at the BOC, as well as Finance Secretary Cesar Purisima and Interal Revenue chief Kim Henares.
'Big shoes to fill'
Purisima thanked Sevilla for his "dedicated service and relentless pursuit of good governance in the Bureau of Customs" and said the Customs chief leaves behind a legacy of "unleashing transformative reform in the Bureau of Customs."
"There is always a time when one has to rest and take leave: today is one such day for a fine public servant who has waged the good fight against corruption well," he said in a statement shortly after Sevilla's announcement.
Purisima noted that the BOC "is the most improved national government agency in terms of revenue collection last year, thanks in no small part to the person who leads it."
"I am confident that the foundations Commissioner Sevilla has built will allow a clear path of reform for whoever his appointed successor is. Commissioner Sevilla has set the bar extremely high: his successor will have big shoes to fill," he said.
The DOF chief also cited Sevilla's accomplishments:
Helped grow BOC collections by 21% year-on-year in 2014 versus 5% in the pre-reform period
Transformed the BOC to be one of the "most radically open and transparent agencies in government"
Made government regulation more efficient for doing business in the country
Took great strides to thwart graft, technical and outright smuggling by filing cases, alert orders and seizures against erring importers, brokers, and officials
"Amid these results, I respect his well-discerned decision to resign. In a span of a year and half, he has shown us that what was then impossible is now possible. It is possible to hope that we can transform institutions, with uncompromising courage and integrity," Purisima said.
Palace Communications Secretary Herminio Coloma said on Thursday that Purisima's office informed Malacañang of Sevilla's announcement.
"In behalf of the President, Secretary Cesar Purisima thanked Commissioner Sevilla for his exemplary leadership in implementing reforms in the Bureau of Customs and for his dedicated service to the nation," Coloma said.
He added that the Aquino administration "is determined to pursue the reforms at the BOC and bring these to full fruition."
Sevilla, then finance undersecretary, was appointed Customs officer-in-charge in December 2013, following Biazon's resignation. 
Prior to his resignation, there have been persistent talks that some camps within the Aquino administration want Sevilla out. Sources have told Rappler that Sevilla could be standing in the way of these groups who want to turn the tax-collecting agency into a milking cow for elections.
In his Wednesday news briefing, Sevilla had said: "I don't compromise on morality. The law is clear on what is allowed and not." (READ: Customs won't be elections milking cow)
The Philippines will hold its presidential, national, and local elections in May 2016. A year before an election, political parties traditionally start raising funds, either by soliciting donations from businessmen or, in the case of those with connections in government, by using funds from various agencies. – Rappler.com